How to Create Your 1000 Piece Photo Puzzle
July 15, 2021
Our Best-Selling 1000 Piece Photo Puzzle
puzzleYOU's 1000 pieces photo puzzle is the perfect size for patient adults and children alike. It provides both an entertaining challenge and a rewarding sense of accomplishment. Our 1000 piece jigsaws have a completed size of 25.2" x 18.9", the ideal space for either one photo or multiple images in a collage design. Adults typically require around ten hours to complete a 1000 piece photo jigsaw puzzle. However, the time commitment depends entirely on your puzzle motif choice. Keep reading for more information on our design process, tips on choosing the right photo, and more! 
​
Design Your Custom 1000 Piece Photo Puzzle
Our simple design process takes only a few minutes! You only need a personal photo for your personalized jigsaw puzzle and a vision for your creation. We help you every step of the way with our easy-to-use puzzle design software. Our designer makes it simple to assess image resolution issues and create a finished product that lasts a lifetime.

Choosing Your Photo: Image Resolution, Colors, and More!
Your photo's resolution is crucial to creating a high-quality photo jigsaw puzzle. Most smartphones automatically take pictures with an image resolution suitable for a 1000 piece photo puzzle. However, our product designer will help you determine whether or not an uploaded photo meets our jigsaw image recommendations. puzzleYOU's software will display a rating based on the image you upload, from 1 to 5 stars.
Deciding which photo to choose for your personalized 1000 piece jigsaw puzzle can be challenging! With so many treasured memories, it can be difficult to pick favorites. We always recommend picking images with a variety of colors and design elements. Images with large segments of the same color can create hard, frustrating puzzles, such as pictures of the sky or sea. Multi-colored photos will lead to an enjoyable assembly experience, as individual segments are easily distinguished. 

Our Favorite Motifs: 1000 Piece Puzzles
The Perfect Activity for Two!
We love to see our customers surprise their loved ones with a puzzle design of themselves or a treasured memory together. Photo puzzles with these motifs can be a memorable gift or an exciting activity for any date night. If you want your puzzle to be a bonding activity, you can rest assured knowing that assembly a jigsaw with your partner is an adventure! Be prepared to spend hours chatting or listening to music while focusing on a common goal. Not only will this activity bring you closer together and create a new memory, but you will improve your problem-solving skills. Reminisce on your past together and choose moments in time from vacations, anniversaries, holidays, and more!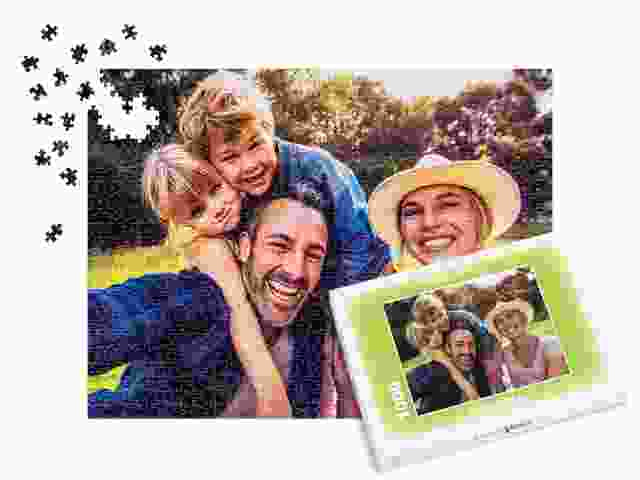 Turn Your Family Photos Into a Photo Puzzle!
Another popular puzzle motif is family photos! Whether you choose an image of kids playing together, siblings with their favorite pet, baby pictures, or a snapshot of the whole family together, your happy family moments will create a 1000 piece puzzle that you will treasure forever. Family photo puzzles are lovely gift options for birthdays, Mother's Day, Father's Day, Christmas, Easter, anniversaries, and everything in between. The opportunities for your premium gift are endless!
Are you looking for photo puzzle inspiration for your next special event or celebration? Find more here.
We highly recommend opting for one of our photo collage layouts when creating your custom jigsaw puzzle! This option allows you to tell a story with your personalized photo jigsaw. You can incorporate all of your special memories, from posed portraits of your family to genuine candids of your loved ones together. Our photo collage layouts still allow you to add custom text to your creation, meaning you can include a heartfelt message with your collection of moments. 

We hope that the tips above helped you create your own 1000 piece photo puzzle! If you have yet to start the design process, click the button below: