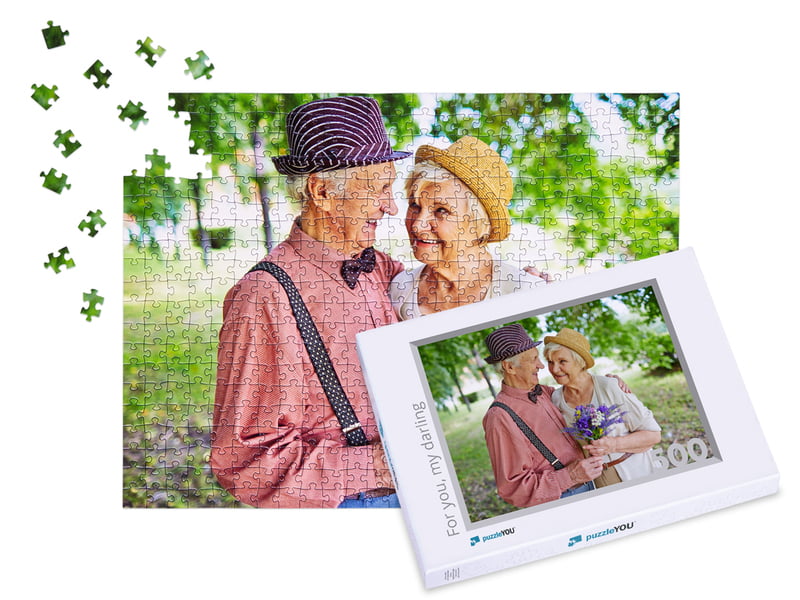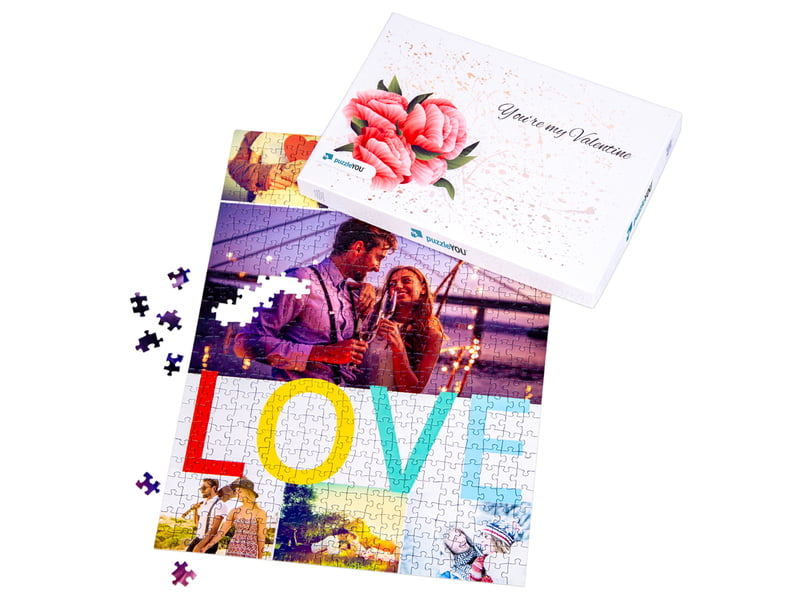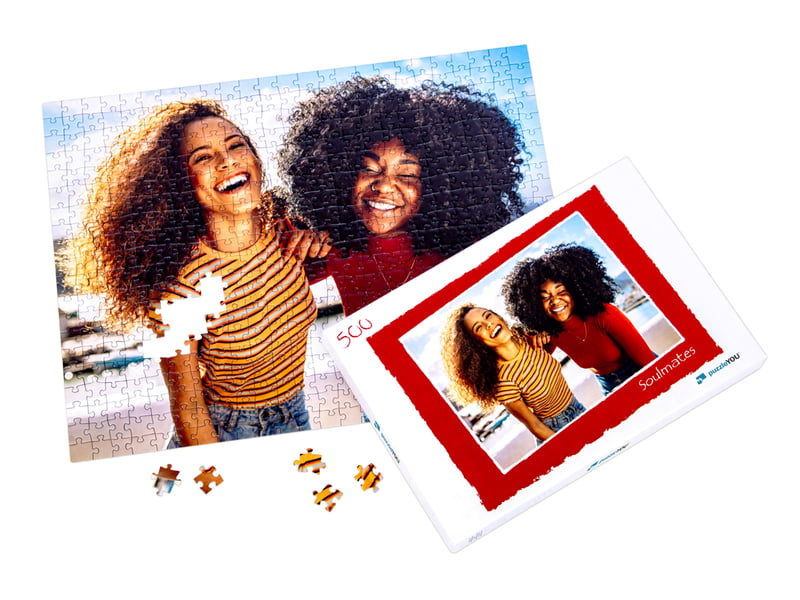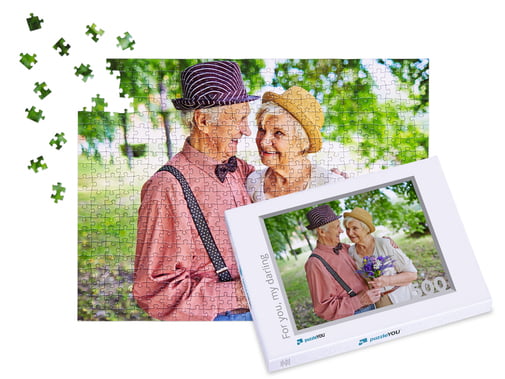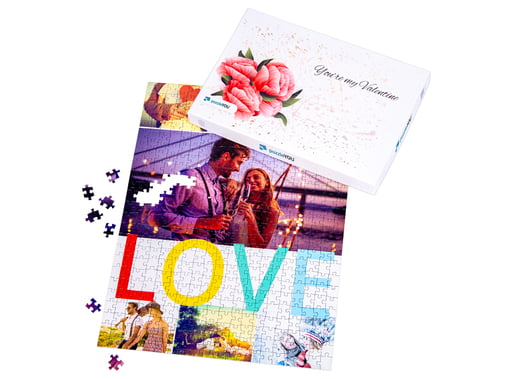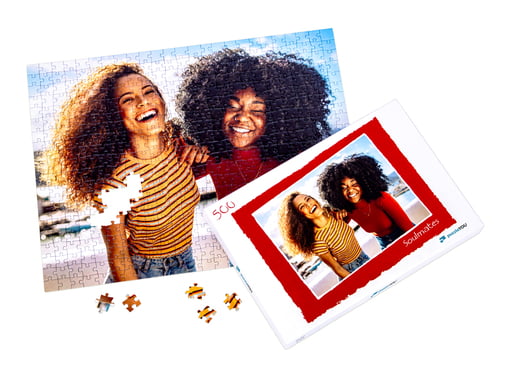 Photo Puzzle - 500 pieces
dummy-detail-value
Size: approx. 19" x 14"
For all ages
Amazing box layouts for
all possible occasions

Premium Quality, Printed in USA

Easy: 250+ Puzzle & 80+ Box Designs

FAST: Reliable UPS Shipping
Personalized 500 Piece Jigsaw Puzzles
If you love a challenge but want to avoid a jigsaw that takes up too much space, a 500 piece puzzle is the perfect option for you! We rank this puzzle at medium-level difficulty at the highest level of fun. A 500 piece puzzle is the ideal option for adults and children with both patience and fine motor skills. The pieces are about the same size as our puzzles with more pieces, assembly is just less time-consuming. With our designer, you can turn your favorite photos into a relaxing activity and cherished keepsake in the blink of an eye!
Puzzle templates: Choose your favorite from our free collection of 250+ designs, created with each and every occasion in mind
Your personal photos: Upload up to 65 of your favorite shots- our software will help you assess the image quality! 
Recommended age: Suitable for children 10+ and adults (5+ hours are often required) 
Customizable gift box: Select a special gift box from over 80 layouts, size 13.2" x 9.2" x 1.4" 
Size of the box:
Size of the assembled puzzle:
Size of the pieces:
Thickness of the pieces: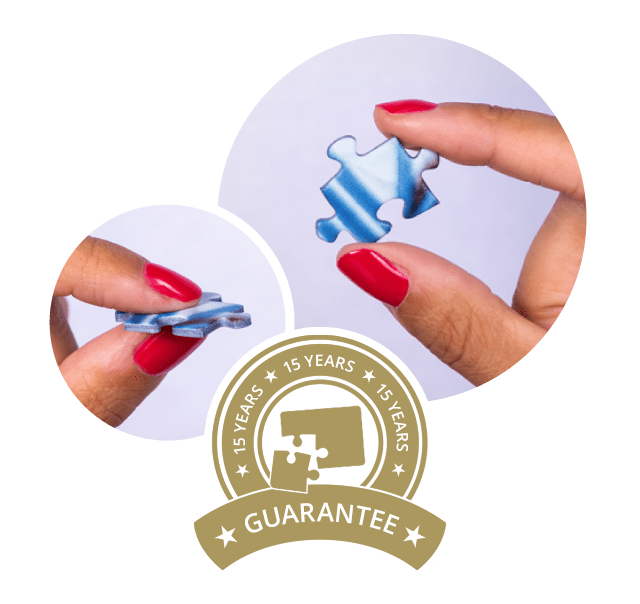 Our quality promise to you
The puzzleYOU team believe jigsaw puzzles and photo gifts are an important way to share memories with your family & friends, so we promise to deliver premium quality every time. 
Printed in the USA. We assemble your puzzles & gift boxes in Williamsport, Pennsylvania. Our experienced team ensures the highest quality before we carefully package and ship your package out via UPS.
When the pieces fit well, jigsaw puzzles are more fun, so we take great care to precisely cut our unique puzzle pieces.
Sturdy, 2.2mm (.09 inch) thick cardboard makes our jigsaw puzzles a high-quality & durable gift.
High quality printing with a matte finish & vibrant colors that won't fade will make your photos look great. 
We offer a 15-year replacement guarantee for all our puzzles.
Turn Your Photos into a 500 Piece Collage Puzzle
Despite being compact, 500 piece puzzles include a sizeable number of small pieces and require high-quality photos. If you find that your images have lower resolutions, a photo collage puzzle is a perfect solution to creating professional jigsaws. Use our collection of free collage templates to your advantage and upload up to 65 of your favorite photos. We offer a wide range of collage templates, making the design process care-free and enjoyable! 
Make the most of your photos- no matter what equipment was used to capture them! Our photo collage technology uses the power of smaller photos to create high-quality jigsaws, helping photos with lower resolution stand out. 
Opting for a collage jigsaw leads to more detailed, colorful puzzles with added patterns. Assembling your custom photo puzzle collage will be an enjoyable experience for any loved one! 
Make every inch of your puzzle personal by adding custom text to compliment your photos. 

500 Piece Custom Puzzle Recommendations
Image resolution is important
The quality of your printed puzzle relies heavily on image resolution. Since 500 piece puzzles have relatively small pieces, we recommend only choosing photos that have a minimum of 3409 x 2567 pixels. 

Feeling unsure? Send your photos our way! 
PuzzleYOU is here to help you every step of the way! Our team is dedicated to ensuring that you create a high-quality premium custom puzzle. If you are hesitant about the sharpness of your photo, email it to us and we will respond quickly with advice. 
 
Upload multi-colored, detailed photos
Selecting images with a variety of colors, textures, and details is important when designing a puzzle with 500 small pieces. When designing your jigsaw, pay close attention to the background of your photo to ensure that assembly is challenging but enjoyable. 
Consider our photo collage designs 
If you are worried about your image quality or want to make sure that your jigsaw is not overly frustrating to assemble, consider choosing from our collection of photo collage templates! Each photo is printed smaller, improving the appearance of lower-quality photos. Plus, you can include even more of your treasured memories! 
 
More Custom Jigsaw Puzzle Options

FAQ
Do you process portrait- as well as landscape photos?

You may always upload both portrait and landscape photos.

Is it possible to see the actual status of my order?

We will send you an order confirmation with a green button via which you may check the status of your order. Please do not delete this confirmation.
By clicking the green button, you will be lead to your personal status site. On this site, you may find all the information about your order and the actual status of every single item. After your order has been shipped, a tracking number will appear with which you may track the delivery.
The tracking number, that allows you to see the actual status of the delivery, can also be found in the shipping confirmation that will be send to you after your order has left production.