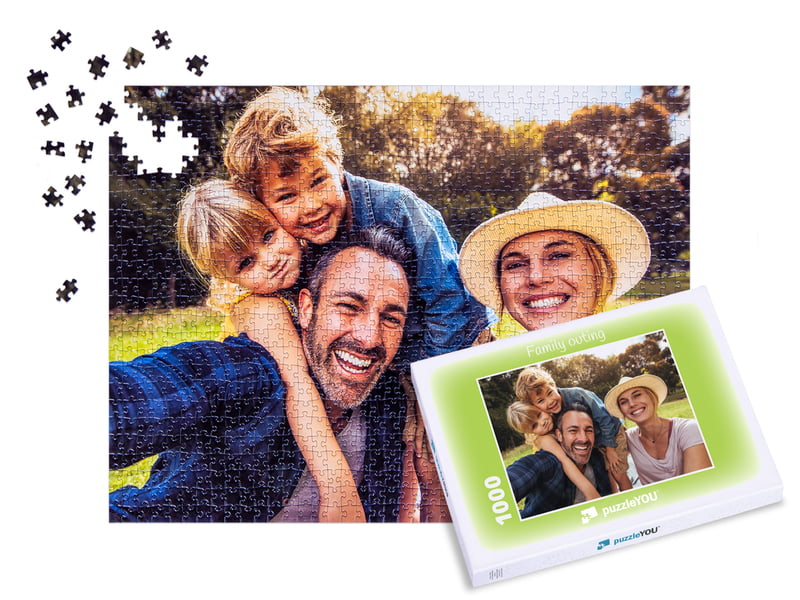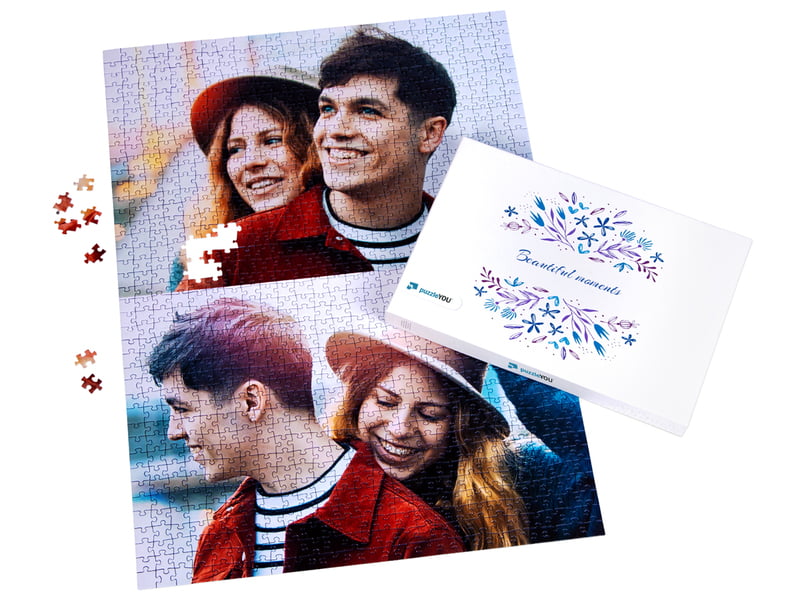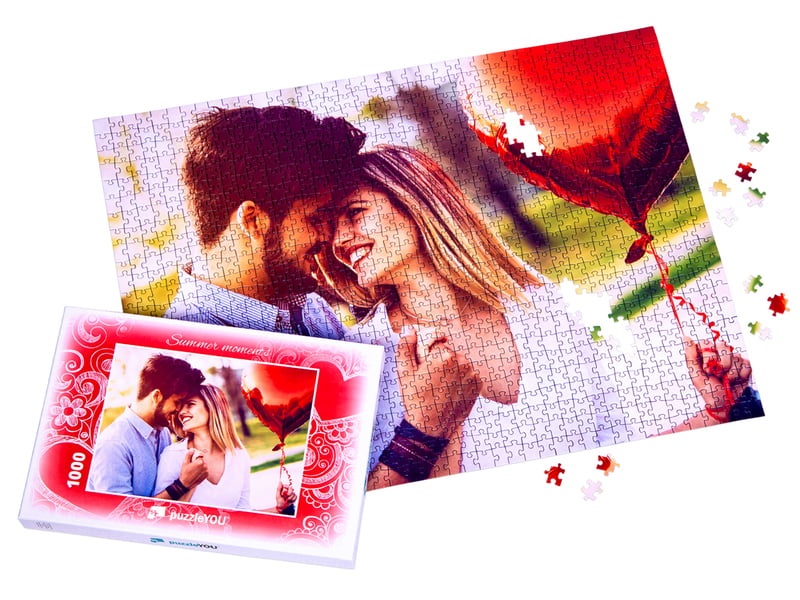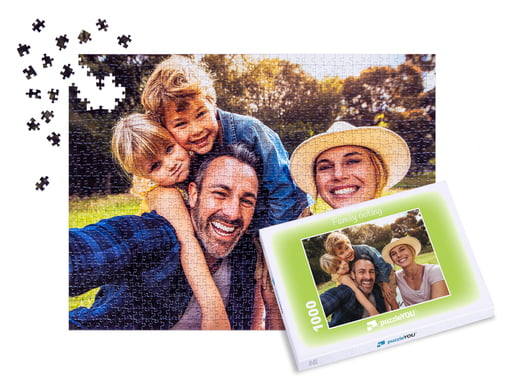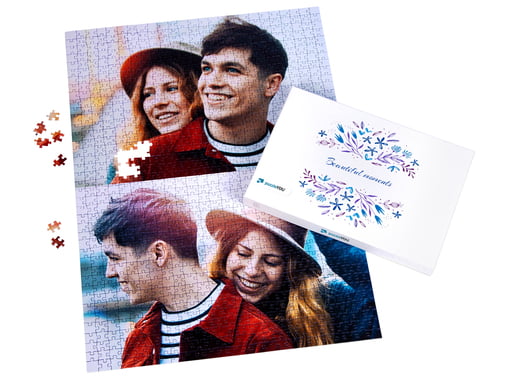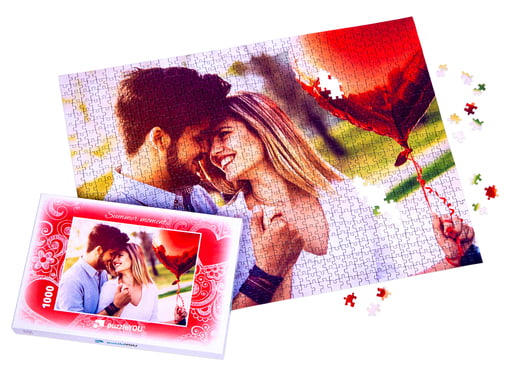 Photo puzzle with up to 2000 pieces
dummy-detail-value
Size: approx. 25" x 19"
Our bestseller
Amazing box layouts for
all possible occasions

Premium Quality, Personalized & Printed in USA

Easy & Custom: 250+ Puzzle & 80+ Box Design

FAST: Reliable UPS Shipping
Create custom photo collage puzzles
All of your favorite memories deserve to shine! PuzzleYOU offers more collage templates than any other puzzle company. We believe that everyone deserves to have a fun jigsaw puzzle experience by reliving cherished moments in time. 
With our photo collage designer, your smartphone photos can stand out and create beautiful works of art. A collection of smaller photos will require less resolution, while still giving you a professional, premium jigsaw puzzle.
Upload up to 65 of your favorite photos and include all of your beloved memories.
Photo collages create breathtaking, colorful puzzles with additional patterns and fun design elements. This leads to an enjoyable, relaxing assembly experience. 
Add an additional element of personalization by adding custom text. Your puzzle can express any range of emotions, it's entirely up to you! 
Turn a picture into a puzzle in minutes!
Choosing the right photo for your custom jigsaw puzzle may seem overwhelming. We want to make every step of the process quick and easy. With our tips and tools, you will create a spectacular premium puzzle that will be treasured for a lifetime with a click of a button!
Not sure which size to choose? Take a look at our recommendations!*
48 pieces: Children 4-5 years old or people living with impairment
100 pieces: Children 6-7 years old
200 pieces: Children 8-9 years & adults 
500 pieces: Children 10+ & adults (5+ hours are often required)
1000 pieces: Children 10+ & adults (10+ hours are often required)
2000 pieces: The ultimate challenge for patient children & adults (20+ hours are often required)
*Difficulty & time required for completion vary based on the uploaded photo. The more colors & patterns in the photo(s), the easier the puzzle.
Personalized Gift Box: The Perfect Finishing Touch
The finishing piece to your meaningful custom jigsaw puzzle is a creative complimentary gift box. At no additional cost, create a special gift box for your custom puzzle with our collection of 80+ designs. Choose any layout from our collection and personalize it with a heartfelt message. Gift boxes will turn your sentimental puzzle into a treasured keepsake. You can choose to reveal your design on the gift box and use it as a guide when piecing your jigsaw together. Alternatively, you can create a fun challenge and choose a box that keeps your photo puzzle design a surprise! 
Our quality promise to you
Our puzzles are made with love, but that's not all! They're crafted with the most durable cardboard and printed with the most vibrant, crisp colors to keep your puzzle strong for 15+ years. 
Printed in the USA. We assemble your puzzles & gift boxes in Williamsport, Pennsylvania.
Highest-quality, thick cardboard, precision cut for that just-right-click.
Vibrant printing with a matte finish that won't fade to make your photos look their best.
15-year replacement guarantee for all our puzzles.
Personalized Jigsaw Puzzles: Unique & Creative Gifts
Revealing a custom gift to a loved one is a truly special experience. Whether the occasion is a birthday, holiday, or milestone in a loved one's life, a personalized gift will make anyone feel special. A custom photo jigsaw is an amazing opportunity to transform memories into an unforgettable gift! With our software, you can take the stress out of gift-giving, by simply uploading a photo and choosing one of our special custom puzzle templates. 
Complimentary collection of 250+ puzzle layouts and 80+ gift box designs for every possible occasion and celebration 
Choose from 48, 100, 200, 500, 1000, or 2000 piece puzzles: there are options for every age and ability level! 
Printed, assembled, packaged & shipped from Williamsport, Pennsylvania, USA

How do I make a custom photo puzzle?
Keep in mind: the number of pieces determines the level of difficulty
Our priority is to offer puzzles for every age and level of ability. In general, our photo puzzles with fewer and larger parts are more suitable for beginners of any age. Our larger count puzzles have smaller pieces and are more intricate. These are ideal for advanced puzzle pros or groups who can devote more time to the experience.
Designing for individual skillsets
When designing your puzzle, keep age and personal factors such as mobility in mind. If you are creating a jigsaw for a young child, try to reflect on the amount of time they would be able to participate in assembly before feeling frustrated. Similarly, if you are crafting a gift for a loved one who appreciates challenges, opt for a larger puzzle that might be more stimulating and time-consuming.
Create your puzzle based on the number of photos and image quality
First, decide whether you want to choose a single photo for your jigsaw puzzle or upload a collection of up to 65 images. After uploading your picture, you will see a preview of your puzzle with a corresponding five-star rating scale. The higher the rating, the better the printing quality. Remember, photos with more colors will be easier to assemble! 
Design a custom gift box
Your photo puzzle deserves an equally impressive box! With over 80 different layouts to choose from, you can customize a puzzle box to fit any occasion, dedication, or memory. Tip: if you want to create an element of surprise and an extra challenge, you can choose a box without an image preview!