Our mission and product promise go hand in hand: Offering the most diverse assortment of jigsaws with the highest quality. PuzzleYOU wholeheartedly dedicates time and effort to creating premium photo puzzles. Our customers' high expectations motivate us to improve with every jigsaw that leaves our manufacturing facility. Many customers order our individually designed products as a unique gift for loved ones. As a result, professional printing and attention to detail are our top priorities.
Photo Jigsaw Puzzles with a 15 Year Guarantee
Are you familiar with our 15-year guarantee? Our quality promise applies to the durability of our printing, the cardboard used, and the lamination applied to your puzzle. Our mission is to meet all customers' expectations of one hundred percent satisfaction with every jigsaw puzzle. We want you to enjoy your jigsaw without compromise for many years. 
Learn more about our guarantee
The Highest Jigsaw Puzzle Quality: In-House Manufacturing
PuzzleYOU is confident and motivated by our quality guarantees and promises. As a premium producer, we have acquired expert knowledge throughout the years and are proud of the imprint we have made on the photo puzzle market. The key to our success was our decision to build our puzzle and games production facilities.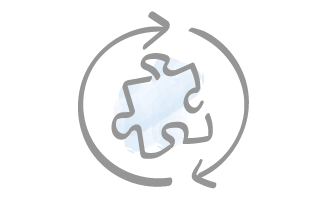 Picture Perfect Puzzles: High-Precision Cutting
Optimal cutting guarantees fun on the highest puzzle level. We have worked diligently to find the perfect ratio of the thicknesses of our handmade cutting tools and our cardboard. The general rule: finely tuned cutting tools combined with strong cardboard lead to the most satisfactory quality. Establishing the ideal ratio between both of them means precise, detail-oriented work. The result: Our puzzle pieces can be assembled and stay together easily. Every jigsaw interlocks perfectly, as our production methods ensure that each puzzle piece is unique. This practice creates an enjoyable jigsaw experience every time!
Premium Cardboard
Our production team uses a high-quality 0.09" thick cardboard. This makes your photo puzzle extra durable and long-lasting. Even after assembling your jigsaw multiple times, your puzzle will still be fun and have that premium feel. Additionally, the pieces will easily survive the intensive strain of children's hands. When it comes to our raw materials, we do not only pay attention to premium quality, but also the environment. The photo on the left shows a discount puzzle piece with 0.06" cardboard compared to one of our premium puzzle pieces at the right-hand side.
Fine Surface
Our photo jigsaw puzzles have a high-quality touch and feel with our distinct matte, refined surface. Whether your puzzle is in the candlelight of your cozy living room or outside on the patio, it will not reflect light. This feature provides an enjoyable puzzling experience time and time again. The special paper we use for our jigsaws makes each piece feel pleasant when handling them during assembly. 
Rigorous Final Inspection
All of our photo puzzles are required to pass a meticulous final inspection. A jigsaw may only leave the production factory when it meets our high-quality standards. Therefore, each puzzle is scrutinized thoroughly by our team at the end of the production line. Your satisfaction with your gift is our motivation every single day! We pay special attention to:
The print of the puzzle motif
The lamination of the photo onto the puzzle cardboard
The cutting of the jigsaw
The print and lamination of the boxes
Comparing Jigsaw Quality
Puzzle enthusiasts describe their expectations for the perfect jigsaw in many forums and blogs. Across the board, it is known that the pieces should only fit into one intended spot and must be cut and disconnected from other puzzle pieces. At the same time, they are supposed to interlock tightly when placed, allowing separate parts of the jigsaw to be maneuvered around it. To avoid a difficult degree of assembly, the shape of the pieces has to be variable. As a result of our accurate cutting and vacuuming methods during production, there is only a minimal amount of shipping-related dust in the box. 
Customer Satisfaction
We have exceeded countless customers' expectations over the past years. If you want read a collection of our customers' reviews, please click here.
PuzzleYOU: High-Grade Quality
 High-precision cutting
 0.09" thick premium cardboard
 Uniquely cut and perfectly interlocking pieces
 Sophisticated digital print
 Systematic quality checks
 Compliance with ASTM F963-17 standards for materials free of harm to consumer health, ensuring that every puzzle is safe for children and adults alike