Father's Day Gift Ideas from the Heart
Father's Day is the perfect opportunity to thank your dad for his love and support. While finding a present may seem overwhelming, a personalized gift is the best way to show your father how special he is to you. Whether your dad is your role model or your best friend, a custom puzzle will bring a smile to his face this Father's Day.

Thoughtful Gifts for Dad: Craft a Custom Photo Puzzle

"I've said it before, but it's absolutely true:
My mother gave me my drive, but my father gave me my dreams.
Thanks to him, I could see a future."
- Liza Minnelli

Double Dad's Present: Create a Gift Message Voucher Puzzle

8 Gift Ideas for Father's Day 2023
We have compiled some of the best ideas for gift vouchers for Father's Day 2023! With a custom gift voucher puzzle, you can highlight an unforgettable gift idea for your father. Whether a sportsman or a couch potato, there are ideas to make every father happy! Let yourself be inspired by these 8 Father's Day 2023 gift voucher ideas: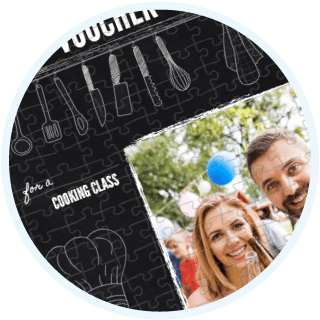 Visiting a restaurant:
Warm summer days and evenings are best enjoyed with good food and company. Book a table at your dad's favorite restaurant!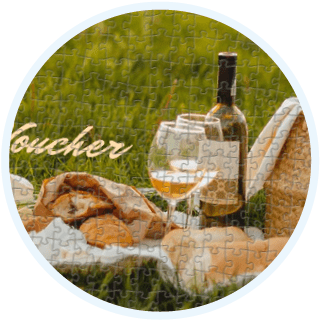 Organize a picnic:
If your father would rather something more casual, why not prepare a delicious picnic together? Don't forget to bring his favorite drink! You can take care of the shopping, the driving and any cleaning up to make the day a total success!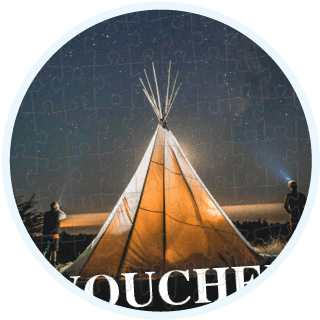 Camping or glamping:
Nature is all the more enjoyable when you go camping together. You can hike into the woods and set up a tent, rent a camper or RV, or even book a glamping luxury accommodation!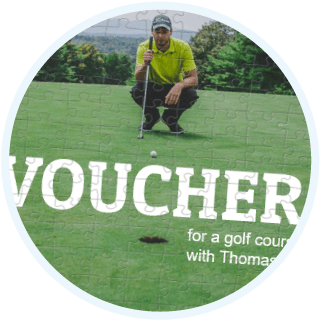 Golf, baseball, or fishing:
These sports offer not only exercise in nature, but also pure relaxation and quality time together. Invite your father for a day of playing golf, catch, or going fishing!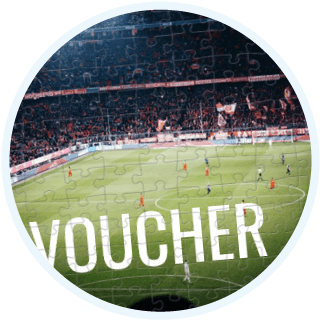 Tickets for a sports event:
Those who aren't fond of playing or would rather relax will be delighted by a sports event! If your father isn't a fan of sports, try tickets to a concert. Can't find tickets? Try discovering something new together, like a fun local sports team or band!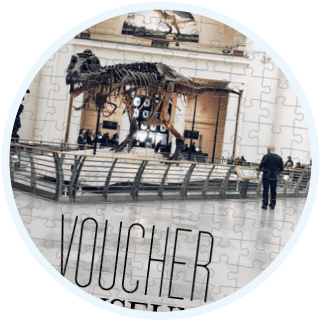 Visiting a museum:
Many museums and galleries offer exciting exhibitions and often organize themed events to participate in, especially in summer. Take your father to learn about something new or to find out even more about something he's already passionate about!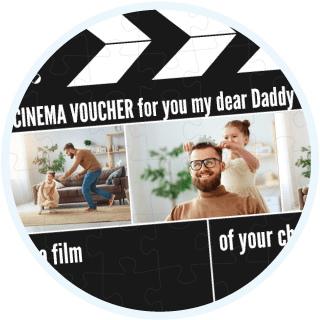 Go see a movie:
Get movie tickets for you and your father and watch the latest blockbuster! Or take the obscure route and check out a small independent cinema together. Movies let you share quality time together plus give you something new to talk about after!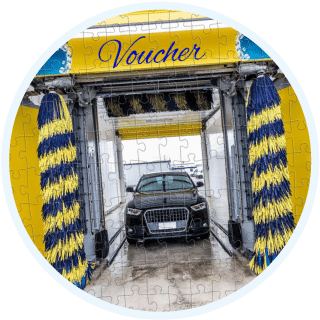 Car care:
How often does your father allow himself a professional wash for his car with all the extras? Save him the chore of washing and waxing for hours on end by hiring a professional to do it instead! Get his car detailed, then take a Father's Day trip after in style.

Big Gift Voucher Ideas
If you really want to spoil your father on his special day, we've got some bigger ideas! We've collected even grander, more relaxing, extra action-packed and enjoyable gift ideas that look particularly good on a gift voucher puzzle. Here are 7 Father's Day gift ideas to really treat your dad this year: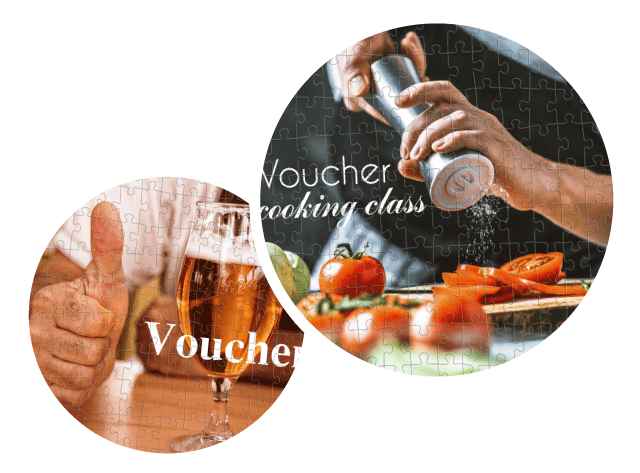 Brewery tour and beer tasting: Whether modern beer varieties or traditional craft, discover the variety of the so-called liquid bread together with your father. You can also look for a distillery if your dad prefers something stronger. Don't forget to arrange rides if you both plan to indulge!
Cooking course: If your father loves to cook, a day with a professional chef could be just what he needs. New tips and tricks can always be learned, whether about cooking in general, barbecuing or another specific type of cuisine. Plus, you'll benefit when your father uses what he has learned at home!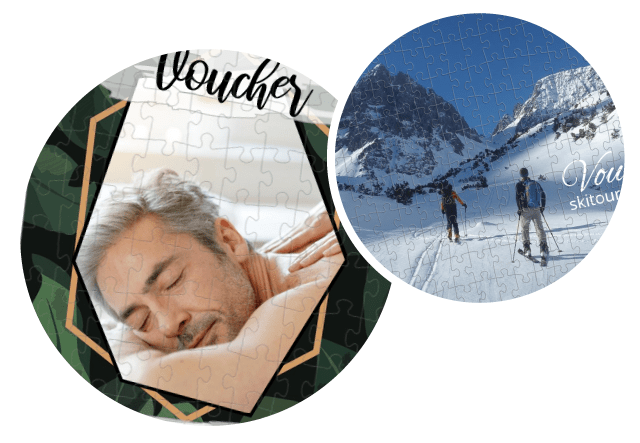 Winter sports holiday: Off to the slopes! Give your dad the promise of an upcoming winter skiing or snowboarding trip. This idea is particularly suited for a voucher puzzle because there's still plenty of time to puzzle out the surprise!
Wellness weekend: Massages are good for everyone! If your father doesn't get any rest all year round, he deserves a break. Swimming, sauna and all-round pampering is an offer anyone can enjoy, especially your hard-working dad!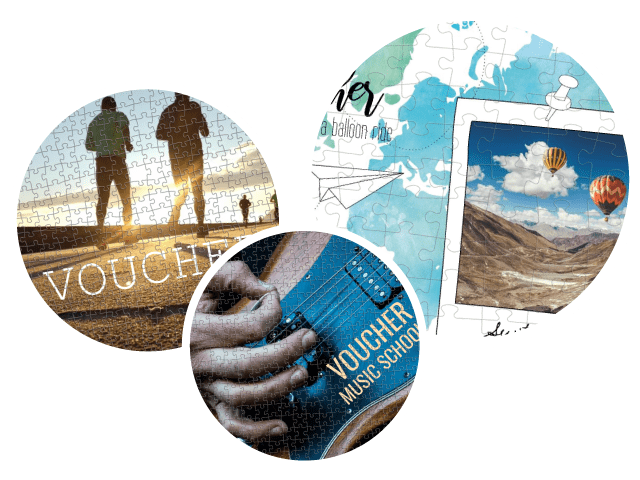 Personal fitness trainer: If your dad likes to workout and sweat, book a day with a personal trainer. A training session specially tailored to him will not only help to strengthen mobility, but will also push your father in new ways!
Painting or music class: If your father likes to be creative, this can make a very special gift. Painting and making music are relaxing activities that provide a good balance to physical or office work. Even if your father is already an enthusiastic artist or musician, there are always new methods or styles to discover by taking a course!
Balloon or helicopter ride: Get up in the air with your father! Your father will remember riding in a hot air balloon or a helicopter for a long time to come. Especially enticing for hobby photographers, this would be a very special gift for any dad!
Unique Gifts: Make Dad's Day with a Photo Puzzle Collage

Meaningful Father's Day Quotes
The final piece to your personalized puzzle is incorporating a sentimental message to make your dad feel loved. Here are a few Father's Day quotes to show your dad how much you appreciate and care for him.

"When my father didn't have my hand,
he had my back."
- Linda Poindexter

"My father has always been my hero."
- Gregory Hines

"Dad: A son's first hero,
a daughter's first love."
- Unknown

"No love is greater than that
of a father for his son."
- Dan Brown

"If dad is my heart, mom is my heartbeat."
- Unknown

"It is a wise father that knows his own child."
- Shakespeare

"A father is someone you look up to. No matter how tall you grow."
- Unknown

"To the world, you are a Dad. To our family, you are the world."
- Unknown

"My dad's my best mate, and he always will be."
- Cher Lloyd

"Dad, I may find my prince, but you will always be my king."
- Unknown

"Any man can be a father but it takes someone special to be a Dad."
- Anne Geddes

"A father is the one friend upon whom we can always rely."
- Emile Gaboriau
Create a Memorable Father's Day Gift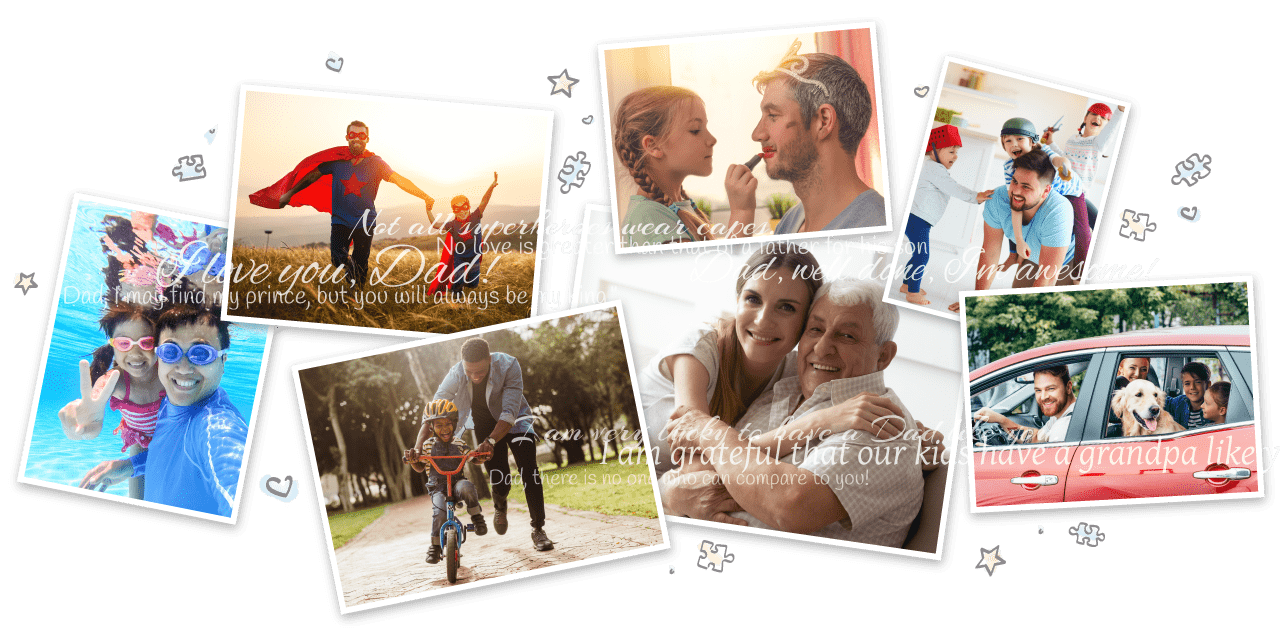 Select the perfect photos for your custom photo puzzle
Remember to reflect on your father's personality when choosing the pictures for your personalized gift! Your dad might love a funny candid family photo from a gathering or a loving moment between his grandchildren. You might also consider featuring childhood photos for a nostalgic collage of memories. Think about what makes your dad the happiest when crafting your gift! 
Find the perfect words for your personalized jigsaw puzzle
Though the message on your personalized photo puzzle will bring a smile to your dad's face, going the extra mile with a card will make the gift even better! If you chose a lighthearted set of photos for your puzzle, a card might add a level of sentimentality to the present. Try to think about memorable stories from your childhood or a time when your dad taught you an important life lesson. This holiday is all about saying "thank you" to the father in your life!

Brief Father's Day Messages
If lengthy Father's Day quotes are not the right fit for you, we have a few short alternatives that are just as sincere. 
These sayings can be used as a box title or as a personal message on the puzzle itself:

I love you, Dad!

Not all superheroes wear capes.

Thanks for always having my back.

Happy Father's Day!

For the best Dad ever.

Today we're celebrating the world's best Dad!

Dad, well done - I'm awesome!

I am grateful that our kids have a grandpa like you!

I am very lucky to have a Dad like you.