100,000+ satisfied customers

Quick, easy, and individual design

Premium quality with 15 years guarantee
Overview of our gift ideas
What is a photo puzzle?
A photo puzzle is a customized jigsaw puzzle, personalized with your pictures
You may choose to have one photo or create a collage with several images
Create your own photo puzzle online with our special designing program
Your photo will not only be on the puzzle, but also on the puzzle box
The give-away photo puzzle boxes are suitable for every conceivable occasion
A special gift for family and friends, made by the No. 1 manufacturer of photo puzzles

"We love the extraordinary and we are so bored of standard puzzle motives. Who wants to make a puzzle with the New York skyline for the fifth time and who likes to see a jigsaw puzzle with the Chinese wall for the tenth time? We produce individual photo puzzles that thrill our customers!"
— Norbert Weig, Founder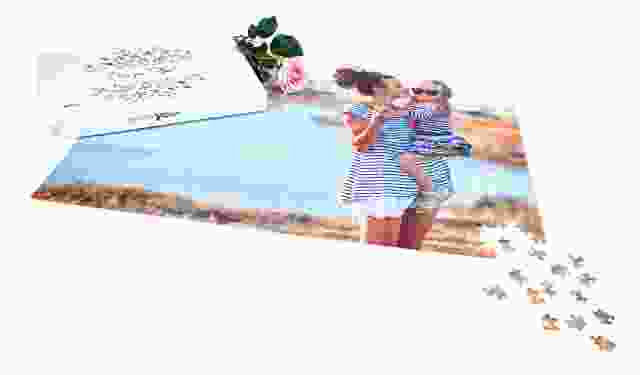 Unbeatable Reasons to order your photo puzzle with puzzleyou.com
Our box layouts are the coolest
Our puzzle board is the thickest
Our cutting dies are the sharpest
Our colors are the brightest
Our quality is the highest
Our experience is the longest
Our designing program is the easiest
Our production times are the fastest
Our money back guarantee is the most unused one
Inspiration
You know how it is sometimes, one gift occasion after another. Valentine's Day followed by Mother's Day, then Easter, Father's Day, and not to forget the birthdays in between. Before you know it, Christmas is around the corner again. It might happen that you run out of gift ideas. No worries however, our photo gifts are manifold. Special gifts for special occasions – only the best for your loved ones! Why not make a jigsaw puzzle with one of the following themes:
Need even more inspiration?
On our Blog you can find gift ideas for different occasions as well as puzzle tips and tricks for an amazing experience with your puzzle!
How to make a personalized photo puzzle
The creation of a custom jigsaw puzzle usually does not take longer than 3 minutes. Our product designer makes ordering very easy and warns you on image resolution issues.
Start now and make your own puzzle:
Video: Turn your photo into a jigsaw puzzle. See how easy it is
It´s sneak-peek-time: In this short movie clip we show how our premium puzzles look, which variants are available and how easy the proceeding of creating a puzzle is. Get yourself an idea of our good looking, customizable boxes and the characteristics of our high-quality puzzle pieces - on moving images more catchable, more real.
Discover our unique photo puzzle for your most beautiful photographs. Press play and enjoy!
1001 creating ideas made possible by the Photo Puzzle Collage
Being restricted to the use of only one photo is a thing of the past, you may use as many photos as you want on your photo puzzle and even add a suitable text! Our Photo Puzzle Collage designer gives your photo puzzle more variety and simplifies the process of completing larger puzzles. Thanks to our Photo Puzzle Collage designer, creating a puzzle with several photos takes only a few minutes.
The benefits of a Photo Puzzle Collage
More photos & texts on your puzzle
For 48 to 1000 pieces puzzles
more than 250 free collage layouts
Intuitive conception
Without a software download - just on-site creating
No extra price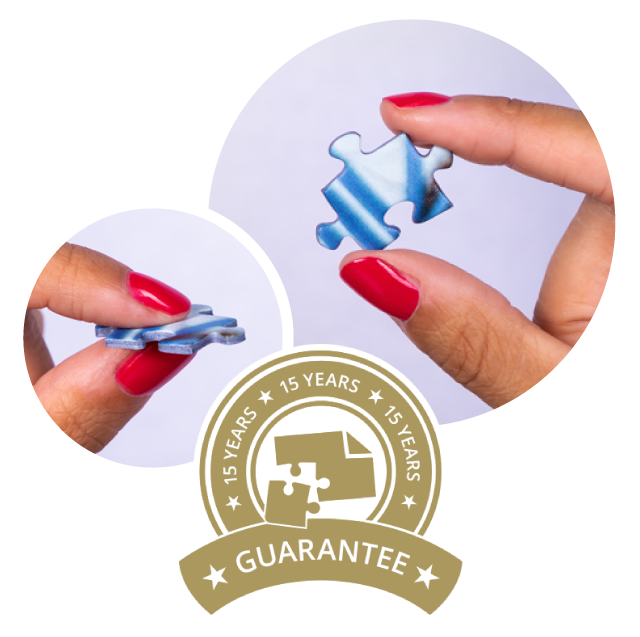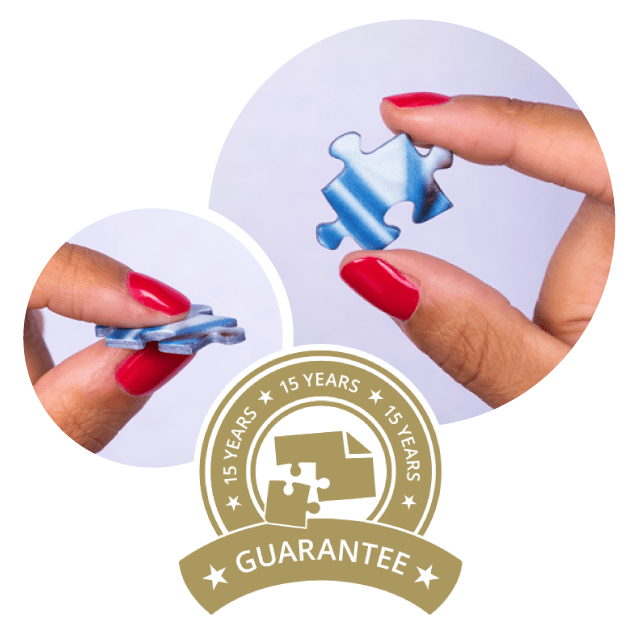 Our quality promise to you
We love personalized jigsaws and photo gifts that ensure quality time spent together. This is why we commit to delivering each uniquely designed product in premium quality.
Our in-house production and 10 years of experience guarantee that our products only leave the house if they meet our high standards. Here you can find more information about our manufaturing process.
Precise cutting makes the puzzle pieces as unique as your photo and helps us deliver the best possible photo jigsaw puzzles.
2.2 mm strong cardboard makes the jigsaw puzzle very sturdy. Nothing gets in the way of fun games evenings with your own picture on a puzzle.
The non-reflecting refined surface makes your photo puzzle appear extra noble. Thus, your photo puzzle can even become a stylish wall decoration.
15 years guarantee on the durability of the printing, the cardboard and the surface coating. We want you to find long-lasting joy in your photo product.
Our customer service

*The 50% discount can be reached by ordering our best-selling 1000-pieces puzzle.