Photo Puzzle - 100 pieces
Size: approx. 19" x 14"
Ideal for children and the elderly
Amazing box layouts for
all possible occasions

Premium Quality, Printed in USA

Easy: 250+ Puzzle & 80+ Box Designs

FAST: Reliable UPS Shipping
Turn Your Photos Into 100 Piece Jigsaw Puzzles
Our 100 piece custom jigsaw puzzles are easygoing fun for any loved one! This option is high-quality, reasonably priced, and an ideal choice for kids or adults with less patience or dexterity. Our 100 piece jigsaws feature large pieces that are not only easy to handle and assemble, but also durable. If you are in search of a relaxing jigsaw to enjoy and treasure for years to come, look no further! 
Complimentary puzzle templates: Select a favorite from 250+ designs
Your personal photos: Upload up to 65 photos & receive a courtesy quality check for each one!
Recommended age: Children 6-7 years old, adults living with impairment
Customizable gift box: Browse 80+ unique box designs, size 13.2" x 9.2" x 1.4"
Size of the box:
Size of the assembled puzzle:
Size of the pieces:
Thickness of the pieces: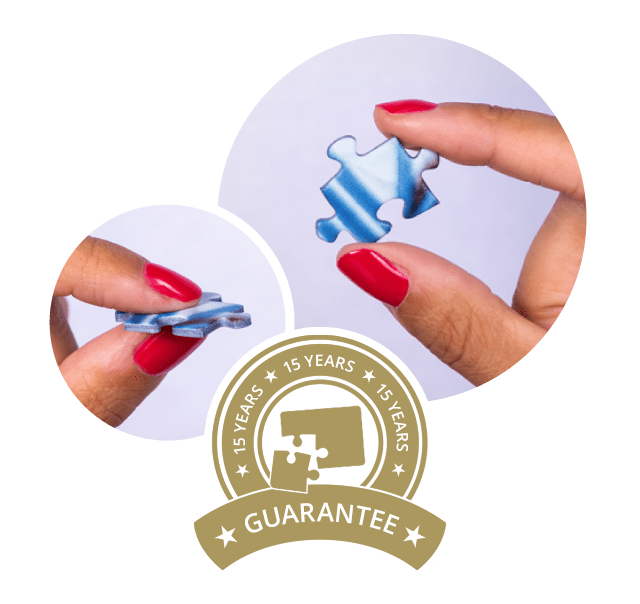 Our quality promise to you
The puzzleYOU team believe jigsaw puzzles and photo gifts are an important way to share memories with your family & friends, so we promise to deliver premium quality every time. 
Printed in the USA. We assemble your puzzles & gift boxes in Williamsport, Pennsylvania. Our experienced team ensures the highest quality before we carefully package and ship your package out via UPS.
When the pieces fit well, jigsaw puzzles are more fun, so we take great care to precisely cut our unique puzzle pieces.
Sturdy, 2.2mm (.09 inch) thick cardboard makes our jigsaw puzzles a high-quality & durable gift.
High quality printing with a matte finish & vibrant colors that won't fade will make your photos look great. 
We offer a 15-year replacement guarantee for all our puzzles.
Make a Puzzle From a Photo in Minutes!
Designing a custom photo is a special experience and we aim to make the process as easy as possible! Our personalization software allows you to craft a breathtaking jigsaw in just a few simple clicks. 
Considering other sizes? Check out our convenient guide!*
Show more Show less
48 pieces: Children 4-5 years old or people living with impairment
100 pieces: Children 6-7 years old
200 pieces: Children 8-9 years & adults 
500 pieces: Children 10+ & adults (5+ hours are often required)
1000 pieces: Children 10+ & adults (10+ hours are often required)
2000 pieces: The ultimate challenge for patient children & adults (20+ hours)
* Difficulty & time required for completion vary based on the uploaded photo. Remember: the more colors & patterns in the photo(s), the easier the puzzle!

100 Piece Custom Jigsaw: Design Tips
Image resolution is key
A crystal clear printed photo puzzle relies heavily on adequate image resolution. We typically recommend choosing photos that have a minimum of 3409 x 2567 pixels for our 100 piece puzzles, as the large pieces are designed for kids and adults with less dexterity. 
Need an extra set of eyes? 
If you are ever in doubt of your image's resolution or have general quality questions, please do not hesitate to send your photos to us! Our team of friendly puzzle experts is devoted to helping you create a stunning jigsaw. We are only an email away and pride ourselves on answering questions as quickly as possible.
Always choose colorful photos
To craft a 100 piece jigsaw puzzle that is both relaxing to assemble and beautiful once complete, make sure to choose images with a variety of colors, textures, and details. Remember to analyze the background of your photo to ensure that your puzzle has the easiest solution possible. 
Take your jigsaw to the next level: photo collage designs 
If you want to add additional design elements to your 100 piece jigsaw puzzle, consider one of our photo collage layouts. You can upload multiple personal photos and craft a detailed jigsaw with more memories than ever before, worthy of being framed on your walls! 
Additional Custom Photo Jigsaw Options

FAQ
Do you process both portrait and landscape photos?

Absolutely!  You can always upload either portrait and landscape photos.

Can I see the current status of my order?

Please review the following steps to find order status information: 

Once you place your order, we will send you a confirmation message with a green button to check the status of your puzzle.
By clicking the green button, you will be led to your personal status site. On this site, you may find all the information about your order and the status of every individual item. After your order has been shipped, a tracking number will appear so you can track your package delivery. 
Your tracking number can also be found in the shipping confirmation that will be send to you after your order has left production.