Add an element of surprise to your personalized jigsaw with our Gift Message Voucher Puzzle! Reveal a message or experience to your loved one piece by piece with a personal photo, custom text, and even a fun mystery box. If you are looking for a unique and thrilling way to share news or unveil an exciting adventure, our voucher puzzles are perfect for you! Your announcement will stay a secret until your jigsaw is assembled, creating a heartwarming memory you will never forget. 
Complimentary Gift Message Jigsaw Layouts!
Travel & Day Trips
Travel gift message jigsaws are a best-seller, perfect for surprising loved ones with everything from day trips to long vacations! Our complimentary layouts are suitable for visits to amusement parks and zoos, as well as long-distance trips to different cities or countries.
Arts & Culture Gifts
puzzleYOU offers gift certificate layouts for concerts, festivals, trips to the movie theater, and more! There are even designs for extravagant and creative date nights, such as attending cooking classes together. Take your adventure to the next level by revealing it to your loved one through a beautifully designed custom puzzle! 
Beauty & Wellness Gifts
Encourage that special someone in your life to take time for themselves. Treat them to a shopping day, manicure, haircut, massage, even an entire spa day! A gift certificate is often the only way our loved ones are encouraged to devote time to self-care and pamper themselves. 
Be Creative: Customize Our Templates for Your Unique Occasion
All of our gift message puzzle layouts are fully customizable. No matter what the occasion, announcement, or experience may be, we have a perfect design for your surprise! 
Christmas Gifts
Give your loved ones a personalized twist on a gift card this holiday season with a custom gift message puzzle. Our festive jigsaw layouts include gingerbread men, Santa Claus, and reindeer, making your creation even more entertaining and cheerful!
Personalized Gift Boxes
Choose to display your message on the gift box or keep it a mystery!
Every customized gift message jigsaw puzzle from 48, 100, 200, 500, 1000, 2000 pieces comes with a complimentary gift box. You can keep your puzzle experience as secretive as possible by choosing a "surprise" gift box design. Instead of revealing the message, you can add a custom dedication or title on the gift box, such as a clever hint for your jigsaw announcement!

Which puzzle size should I choose for my Gift Message Puzzle?
Our gift message layouts are suitable for all jigsaw puzzle sizes. However, we highly recommend Gift Voucher Puzzles with 48 or 100 pieces. Solving jigsaws of these sizes does require some effort, but it will not be frustrating for your loved one to reveal the secret message, coupon, or gift certificate. Assembling smaller puzzles will allow you to build up anticipation for your surprise and lead to a relatively quick, exciting reveal. 
If the gift voucher receiver is a puzzle pro or someone who loves a challenge, you may want to opt for 1000 or 2000 pieces. In this case, we recommend a photo for your jigsaw with a variety of colors, textures, or patterns to help make the puzzle easier to complete.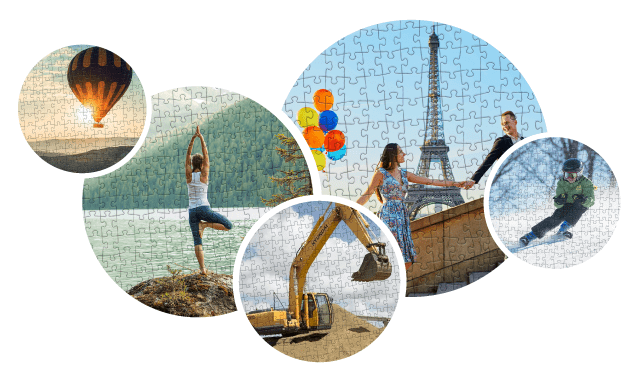 Tickets to concerts, festivals, or plays
Plan a trip to a resort or distant gateway 
Visit an amusement park, museum, or zoo
Plan an all-inclusive spa weekend
Enroll in cooking classes or music lessons
Go to a local winery or brewery for a tasting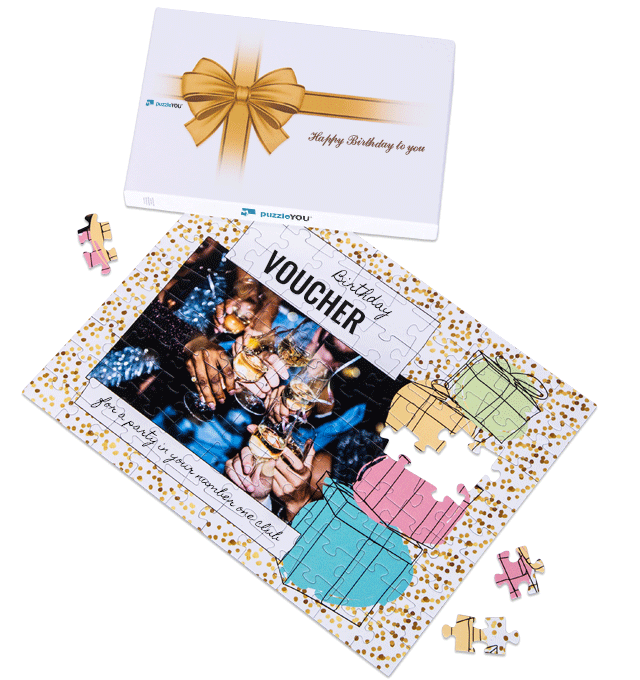 Make Your Own Photo Jigsaw Puzzle in 6 Easy Steps
Step 1: Choose your desired jigsaw size. We offer gift message puzzles in all of our standard options: 48, 100, 200, 500, 1000, and 2000 pieces. 
Step 2: Choose your special occasion and layout. We have complimentary designs ideal for birthdays, weddings, anniversaries, holidays, and more! 
Step 3: Click "Upload photo(s)" and choose the picture you would like on your voucher. 
Step 4: Add personal text by choosing your font, crafting a message, and placing the text around the photo. 
Step 5: Customize your box with our 80+ puzzle box templates. Remember, you can choose to put your message on the box or keep it a mystery! 
Step 6: Order your custom jigsaw puzzle creation! We'll send you an email confirmation with a link to check the status of your order. Once shipped, you can track the status of your delivery with the provided tracking number.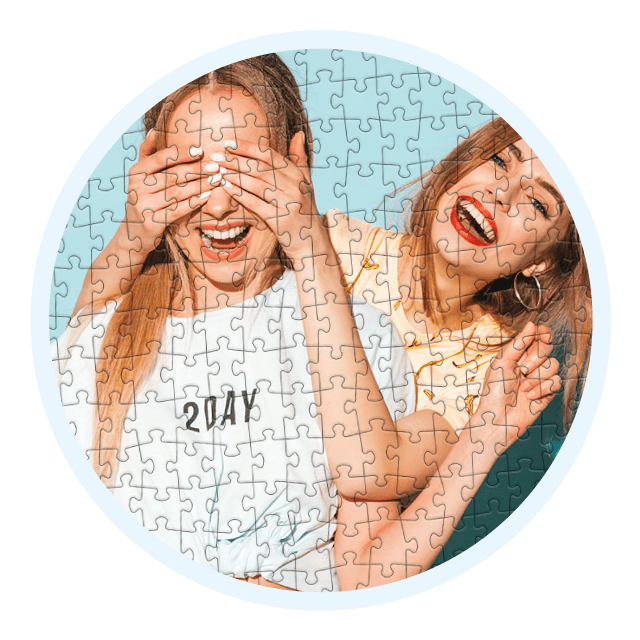 Ready to Surprise Your Loved Ones?