Gift vouchers are always much appreciated, especially when they have been made in a creative way, for example when the receiver has to put his cut into pieces gift voucher together. Our Gift Vouchers turned into a puzzle are all the rage and leave paper vouchers in white envelopes in the dust. Fulfill your beloved personal desires – both small and large. From "A" as in adventure to "Z" as in zoo-visit.
You determine the gift voucher theme! Perfect for a birthday, for Mother´s or Valentine's Day and very suitable for all, who love to be surprised.
How to make your own gift voucher
Our range of gift voucher layouts
On Christmas Eve, we all expect a gift under the tree. This could possibly cause a lot of stress. How good it is to be able to give presents to several people at once with just one voucher, for example to parents, a befriended couple or one's own children. The voucher layouts in the category "Christmas" are very atmospheric and decorated by gingerbread men, Santa Claus and reindeer.
Travel vouchers are the frontrunners among the voucher themes. A travel voucher ensures flexibility and makes people experience new things together. Shared moments are the most beautiful moments! Our layouts are suitable for short day outs, such as a visit to an amusement park, as well as for city trips and long-distance travels.
In the voucher section "Culture & lifestyle" you will find voucher layouts that are perfect for concerts, festivals as well as cinema and restaurant visits. A suitable design is available for aspiring drivers and motorsport fans – which makes them also perfectly suitable as a voucher for men.
x
It is not difficult to find suitable vouchers for women. No matter, if it is for a shopping day, a visit to the hairdresser or an Ayurveda massage - a gift voucher is always well appreciated. The appearance should of course fit and it certainly should be individually. How good that our voucher puzzles and the category "Beauty & Women" fulfill all criteria.
All our voucher layouts offer flexibility. In case it should be more neutral and one does not want to reveal the voucher topic until the last piece, the "All-rounders" category might be helpful.
Gift vouchers especially designed for birthdays are to be found in this category as well.
To raise the excitement: surprising puzzle boxes
Your self-created Gift Voucher Puzzle starting with 48 pieces comes with an individual puzzle box. In order to ensure the surprise and raise the excitement there will be neither a photo on top, nor a preview inside the box. Special layouts have been designed for helping to keep the Gift Voucher a secret until the puzzle has been completed. You may of course put an individual dedication or a title on the box, such as a sweet comment or a subtle hint about the gift voucher.
How many pieces should my Gift Voucher Puzzle have?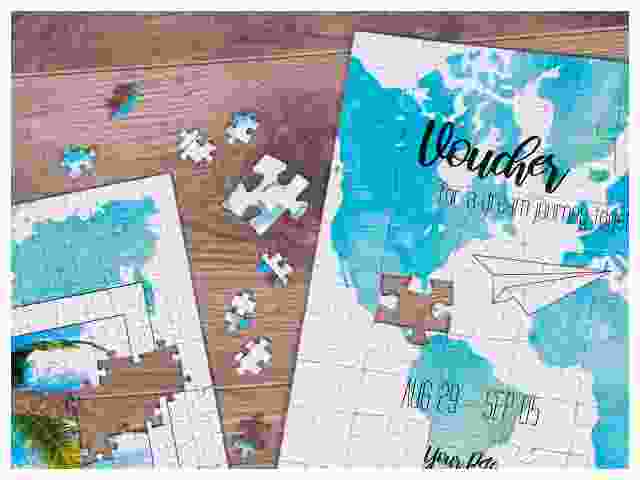 The gift voucher layouts are suitable for all puzzle sizes, we recommend however Gift Voucher Puzzles with 100 or 200 pieces. Putting these formats does require some effort, but it does not take too long for the receiver to reveal the secret of the self-designed gift voucher.
If the receiver is a puzzle pro or a real puzzle lover, you may of course show up with a 1000 pieces Gift Voucher Puzzle. For the self-created voucher, we recommend to choose a motif with significant contours. This makes the puzzle easier to put.
What can be given as a Gift Voucher Puzzle?
There are many gift voucher ideas, which fit the occasion, the budget and the receiver. To find a gift for e.g. a male person is usually not that simple. Gift vouchers however are always suitable for men, as well as for women, friends or family members. Next to the time spent together, a lovely created voucher handed over e.g. as a gift to a mother is always much appreciated. In case you still have not got the faintest idea what to use, here is an overview of inspirations for creative Gift Voucher Puzzles:
Welness-Weekend
Driving lessons
Musical, Festival or a theater
Dance- or ski lessons
A city trip to...
Flight with a balloon or a helicopter
A day with a sportscar
A paintball game
Visit to a leisure parc
Photo shooting
Brunch or a visit to a restaurant
Magazine subscription
Visit to a massage/cosmetic studio
Visit to the cinema
Visit to a thermal pool
Visit to a zoo or horse riding
Laser tag & escape room
Go-kart racing
Cycle tour for two
A cookery course
The top occasions for giving away self-designed vouchers
Our customer's beloved one: Travel vouchers