Create a suspenseful surprise with our Custom Gift Message puzzle. Share news, create a coupon, or give a personalized gift certificate good for anything you choose! With puzzleYOU, you can ditch the paper and crayons and really get creative. Add a photo, your special surprise message, and create a mystery box to add even more fun to your custom jigsaw puzzle.
Dozens of gift message, coupon & gift certificate layouts
Travel & day trips
Travel gift message jigsaw puzzle best-seller. They offer flexibility, so you're not held to travel agency gift certificate limitations. Our layouts are suitable for short day trips, such as a visit to an amusement park, or city trips and long-distance travels.
Culture & lifestyle gifts
Here you'll find coupon and gift certificate layouts that are perfect for concerts, festivals, trips to the movie theatre, and restaurant dates. There are also designs for the racing and motorist enthusiasts in your life.
Beauty & wellness gifts
Encourage that special someone in your life to take time for themselves. Shopping, hair, nails, a massage, even an entire spa day - a gift certificate is often the only way they'll pamper themselves. 
For every occasion
All of our gift message puzzle layouts are fully customizable. Whatever your unique occasion, we have the layouts you need.
Christmas gifts
Give an unexpected gift this holiday season with a custom gift message puzzle. The fun layouts include gingerbread men, Santa Claus, and reindeer, making your creation even more unique and exciting!
Personalized Gift Boxes
Choose to repeat the message on the box, or choose a "mystery" design
Your customized gift message jigsaw puzzle, with 48-2000 pieces, comes with an individual gift box. We do not include a preview in the box, and you can choose a "suprise" gift box design to keep the gift message a secret until the puzzle has been completed. You may put a dedication or a title on the box, such as a sweet comment or a subtle hint about the gift puzzle message. 

How many pieces should my Gift Message Puzzle have?
The gift message layouts are suitable for all jigsaw puzzle sizes. However, we recommend Gift Voucher Puzzles with 48 or 100 pieces. Solving these formats does require some effort, but it does not take too long for the receiver to reveal the secret message, coupon or gift certificate.
If the receiver is a puzzle pro or a real jigsaw lover, you may choose 1000 or 2000 pieces. When you choose to upload your own phot, we recomend a photo with a lot of different colors, textures or patterns to help make the puzzle easier to complete.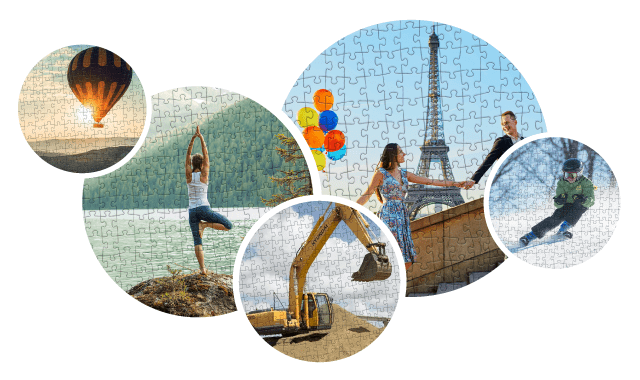 Concerts, festivals, plays, and musicals
A trip to...
Visit to a park
Photo shoot
Spa weekend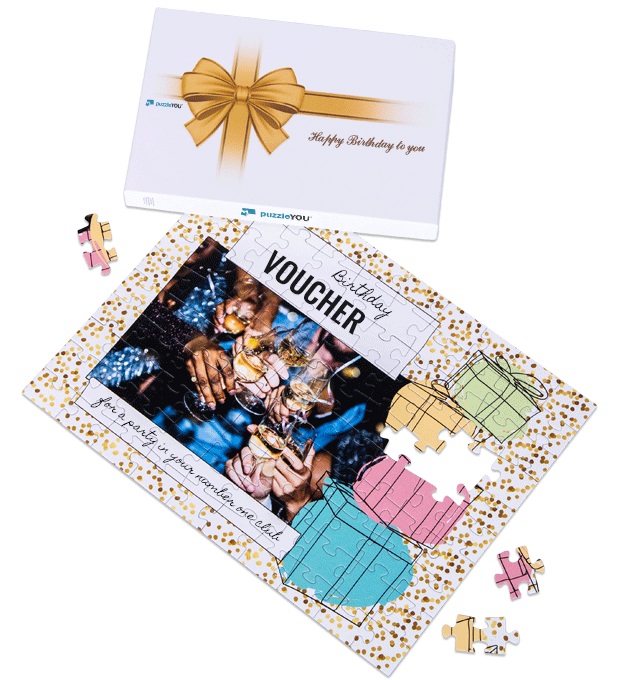 Make Your Own Photo Jigsaw Puzzle in 6 Easy Steps
Step 1: Choose your special occasion. Birthday, Valentine's Day, wedding and anniversaries, Christmas, Mother's and Father's Day, and retirement are just a few of our customers' favorites. 

Step 2: Click "Create," upload your pictures, and choose a template to drop it into.

Step 3: Choose the jigsaw puzzle size. We recommend selecting 48 or 100 pieces. If the receiver is a jigsaw pro, you can challenge them with 500 or 1000 pieces. We also now offer a HUGE 2000 piece option.

Step 4: Add text and choose your font, message, and text placement. 

Step 5: Customize your box with our 80+ puzzle box templates. Choose to put your message on the box or keep it a mystery.

Step 6: Order your custom jigsaw puzzle creation! We'll send you an email confirmation with a link to your personal status site to check the status of your order. Once shipped, you can track the status of your delivery with the provided tracking number.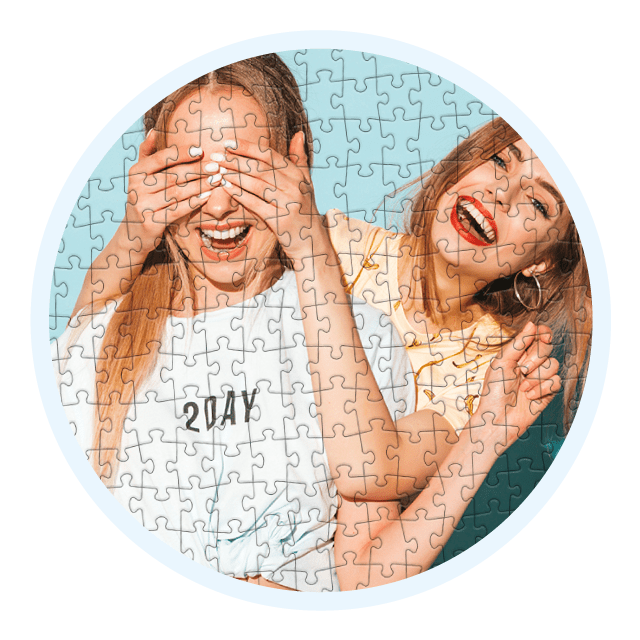 Let's surprise your loved ones!