SMART SORTED® by puzzleYOU - The puzzle reinvented
A 1000-piece puzzle, divided into 40 individually removable SMART boxes with 25 puzzle pieces each.
You decide how easy or difficult the puzzle will be to complete. Puzzle alone or together with friends!
SMART SORTED ... everyone can join in the puzzling fun!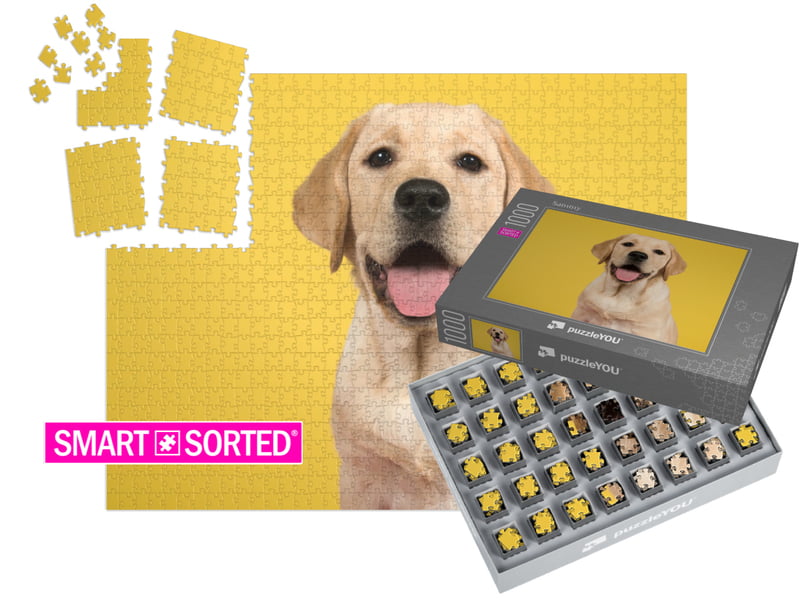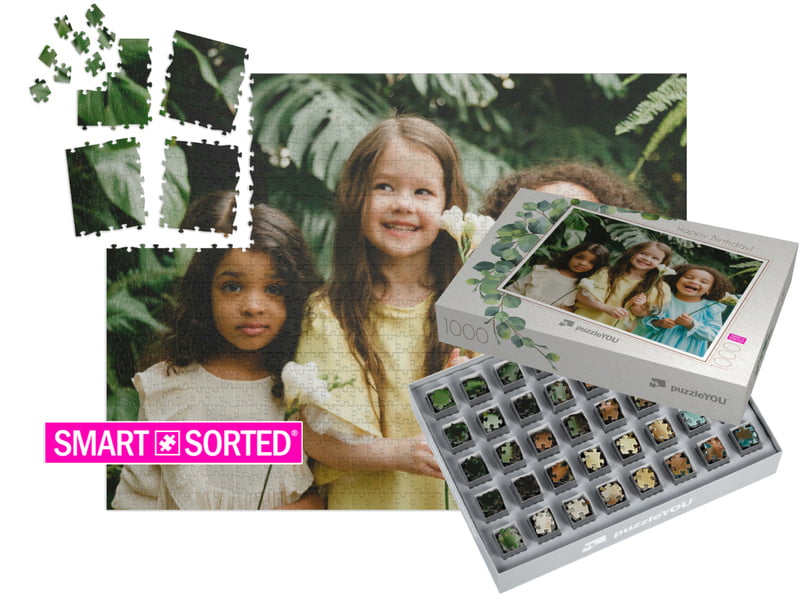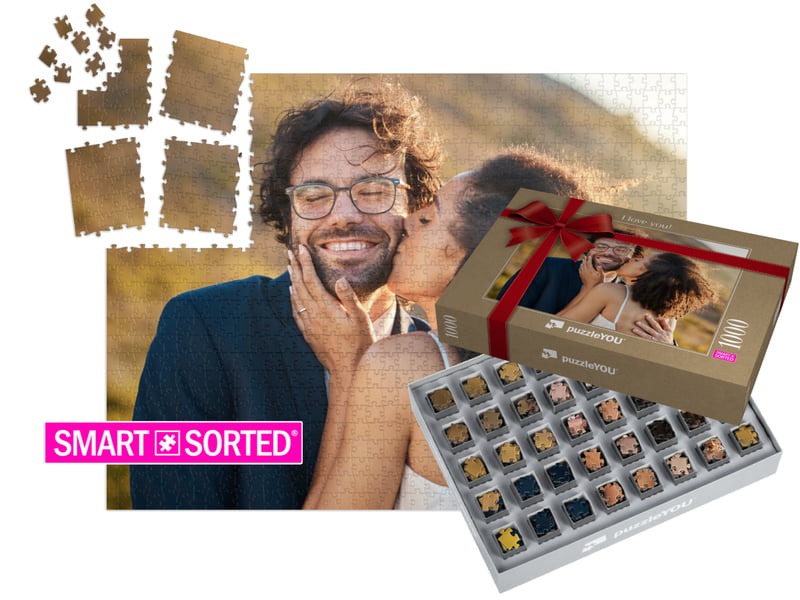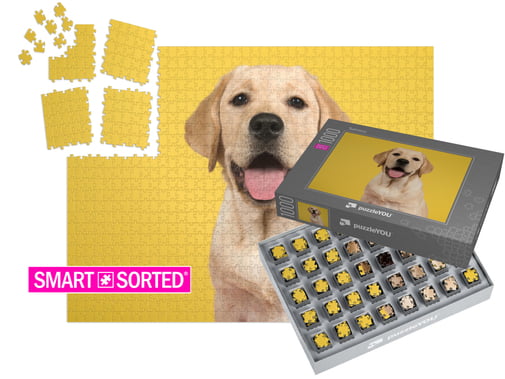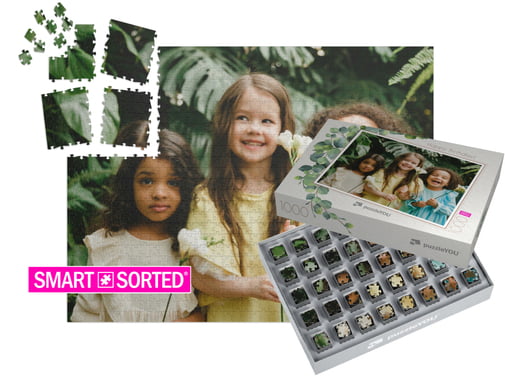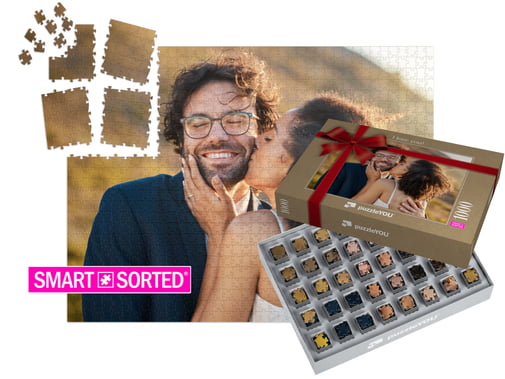 SMART SORTED® | Custom Photo Puzzle
dummy-detail-value
1000 pieces & 32 inches finished size (25 in x 19 in)
Perfect to puzzle together, or easier puzzling for beginners
Choose your level of difficulty & re-use with ease
Dozens of personalized gift box options
Fast delivery & premium quality (15-year guarantee)
SMART SORTED® | Puzzle with your photo
Here's how it works
You can design a SMART SORTED just as quickly and easily as our other products! Create your puzzle your favorite photo, a collage of photos, or one of 25,000 images from our puzzle collections. Then, we produce your puzzle in cleverly pre-sorted puzzle sections. Usually within a week, you will be holding your unique new puzzle in your hands!
SMART SORTED with images from our puzzle collections
SMART SORTED® – Puzzle anytime, everywhere
This is really new! SMART SORTED makes jigsaw puzzles possible for everyone - adults and kids, focused or impatient. Complete a jigsaw puzzle in small bites or like a large buffet of a puzzle. Thanks to our SMART boxes, you can portion your jigsaw puzzle as you please and create a fun activity for social gatherings!
Forever and ever
Speeches, slide shows and lots of party games? Sounds like the perfect occasion for SMART SORTED! It provides great entertainment as a wedding shower game or even during the reception. These jigsaw puzzles are also unbeatable as a personal gift for a couple, because with 40 simple sections, every puzzle is guaranteed to be completed! Perfect for a wedding ...
as a creative puzzle collage for the couple as a gift
as an entertaining table decoration: one SMART box per table
as a guest book : let the guests sign the puzzle
as a clue for a wedding shower game
An educational tool
The perfect gift for teachers, students and volunteers! These smartly sorted puzzles are ideal for completing quickly and entertainingly in larger groups. SMART SORTED is unbeatable as a learning aid for individual students or an entire classe. A few ideas:
Group photo as a puzzle: which class will complete its piece first?
Individual images: design your own education picture!
Great gift: for teachers, students and volunteers, photo jigsaw puzzles show how important teamwork is.
The gift for the best mom
...and only the best for moms! This is a very personal gift at that. With SMART SORTED, you can spend time together with beautiful memories coming to life on a puzzle. Here are a few ideas for showing moms your love: 
Puzzles for Mother's Day with as many or few photos as you want
Time with mom solving the puzzle together
Puzzle challenge: who will complete their section first?
Perfect for every age
Personal photo gifts are an absolute delight for birthdays. Assembling a puzzle of photos is even more fun with SMART SORTED! These smart puzzles can be used  as creative gift vouchers, children's activities or party games - guaranteed success! Try:
A creative voucher: your voucher message in the form of a puzzle!
A party game: let them assemble their birthday gift
Kids' activity: distract little ones before they get antsy
SMART SORTED® | Puzzles for kids
Even children can dare to do a 1000 piece jigsaw puzzle with SMART SORTED! Puzzles are educationally valuable and sustainable activities that train social skills in addition to patience, concentration and fine motor skills. Build in puzzles:
As a family activity that helps your child to calm down
As a reward: 40 SMART boxes make 40 good reasons to do chores!
As a distraction: perfect for keeping the children's table happy at family gatherings
puzzleYOU - The puzzle innovators
Who is puzzleYOU? We are one of the leading manufacturers of premium custom photo jigsaw puzzles. Founded in 2009, we have been delighting customers in Europe and North America ever since. Our unique photo puzzles are high quality, ship fast, and make excellent gifts! In 2023 we're revolutionizing the puzzle world with SMART SORTED.
What is special about the company? Individuality is very important to us. puzzleYOU stands for high-quality, original photo gifts, as well as fast delivery and personal service, all so that your puzzle is perfect. You can give our photo puzzles to your loved ones or yourself with a clear conscience because we are committed to sustainability, our employees, and of course, to you.
What's so special about SMART SORTED? Besides the innovation of the actual smart sorting, a very special punching method is used in the production of SMART SORTED, which ensures particularly fine contours and even better image quality. In addition, the pieces interlock perfectly so that individual puzzle sections can be moved with ease. The puzzles are also delivered 100% plastic-free.