Jigsaw Puzzle & Gift Box Manufacturing
Your satisfaction is our primary goal! We guarantee that our products are crafted at the highest possible quality and delivered efficiently. We manufacture premium jigsaws in our production department in Williamsport, Pennsylvania. While puzzleYOU is based in the US, we create our puzzles using the finest raw materials produced by our sister company in Europe.

Manufacturing the puzzles ourselves enables us to have complete control of the production process to ensure high-quality results. As a result, we confidently offer a 15-year guarantee on all of our jigsaws. Our Williamsport team takes great care to ensure your satisfaction with every order. Our team of puzzle experts carefully inspects each component while paying close attention to the creation, handling, packaging, and shipping of your personalized puzzles.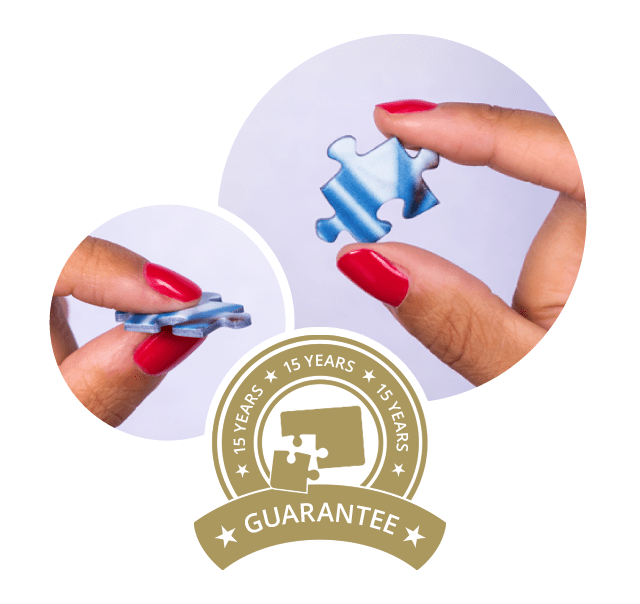 Product Development

Every product starts with an idea. Whether designing and producing new products or enhancing existing products, we always focus on the needs of our customers and current market trends. Controlling every step of the manufacturing process allows us to adapt to new situations quickly. Our extended team consists of passionate project managers, graphic designers, and quality specialists. These team members are responsible for the implementation of selected product ideas. We focus on making products that look exceptional and last for a lifetime!

Our Process: How do we turn your photos into a puzzle?

Producing premium photo puzzles and gift boxes is not as easy as you may think! Our team has comprehensive experience in material composition, cardboard and paper processing, and adhesive handling. Ambient temperature and atmospheric humidity effects printing, meaning that operating with the ever-changing weather in Pennsylvania poses challenges. We use modern digital printing with vibrant inks that will not fade, combined with carefully crafted puzzle piece dye cutting systems, to produce high-quality and durable jigsaw puzzles that you will enjoy for years.

Our easy-to-use online system prepares your uploaded photos for our state-of-the-art digital printing presses. We carefully punch our quality European cardboard to create solid puzzle pieces with a premium feel. Our gift boxes also use the same high-quality European materials to ensure a special gift box every time. We have a machine that carefully breaks apart the completed puzzle to fit perfectly into the corresponding box. Our quality control system ensures both the condition and accuracy of your order. The boxes are then shrink-wrapped to ensure you get all of your pieces. Afterward, we carefully package your gift box for UPS for quick, reliable delivery. We design our shipping packages to be secure and eco-friendly while carefully protecting your custom jigsaw puzzle and gift box.

Reliable & Fast

One of the most impressive parts of our process is that in most cases if you place your order today, we create your custom puzzle in two business days! UPS picks up the order that same day and, since we use 2-Day service as our standard, you should receive your product in less than a week from when you placed your order. Please remember that our team and UPS may need a few additional days during the peak season in November & December.