Premium Quality Guarantee

Easy: 250+ Puzzle & 80+ Box Designs

FAST: Reliable UPS Shipping
Personalized Jigsaw Puzzle Gifts
Create a Custom Photo Collage Puzzle: Feature up to 65 of Your Favorite Pictures!
Say goodbye to being limited to only one photo for your custom made puzzles! You can feature as many images as you want on your photo puzzle and even add text of your choice. Our Photo Puzzle Collage designer allows you to add more variety to your creation and simplifies the process of building it. There has never been a more convenient way to create jigsaw puzzles from your photos! 
Photo Puzzle Collage Advantages
Add more photos and text to your jigsaw than ever before
Available for any of our 48, 100, 200, 500, 1000, and 2000 piece puzzles 
Use our free collection of 100+ collage puzzle layouts
Create large-scale puzzles with multiple small images 
No software is necessary, simply upload the photos and edit them with our website
Premium puzzles, same affordable price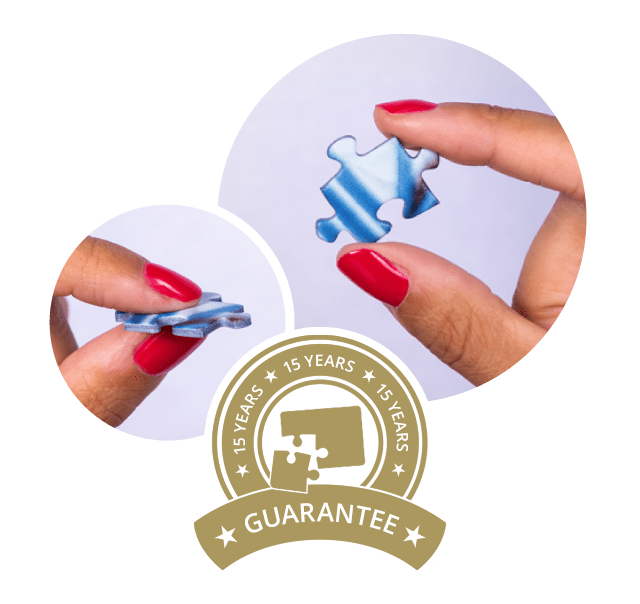 Our Quality Promise to YOU
The puzzleYOU team believes that jigsaw puzzles and custom photo gifts are a special way of sharing memories with your loved ones. We prioritize and guarantee premium quality and fast shipping with every single order. 
Printed in the USA. We print/assemble your puzzles & gift boxes in Williamsport, PA. Our experienced team ensures the highest quality before we carefully package and ship your package out via UPS.
When the pieces fit perfectly, jigsaw puzzles are more fun. With that in mind, we take great care to precisely cut our unique puzzle pieces.
Sturdy, 2.2mm (.09 inch) thick cardboard makes our jigsaw puzzles a first-rate, durable gift. This is roughly the width of three standard credit cards, which is a premium, ideal level of thickness for a jigsaw puzzle.
High-quality printing with a matte finish & vibrant colors ensures that your puzzle will be long-lasting and treasured for years.
We offer a 15-year replacement guarantee for all our puzzles.
What is a custom photo jigsaw puzzle?
A photo puzzle is a customized jigsaw puzzle, created with meaningful pictures and messages
You can choose one favorite photo or create a collage using up to 65 pictures
Personalized puzzles are easy to create & FUN! Upload your photos, choose your template, and add your own words
The gift box can match your personalized puzzle or be customized further with additional photos and messages
Our exclusive puzzle and gift box designs are perfect for adults, kids, birthdays, weddings, and more
A special gift for family and friends​​​​​​