Excellent: Our photo puzzles are receiving great reviews
July 15, 2021
Just like any other business, puzzleYOU would be nothing without our customers! And we can honestly say that our customers are very close to our heart. The photo puzzles we sell are not simply standardized products you can find in a store. Our photo puzzles are unique gifts, containing the most special and emotional moments our customers have experienced in their lives. Every day in production, we see the most amazing pictures on puzzles: proposals, weddings, newborns, family celebrations, kids on their first day of school, and so on. All these treasured experiences of our customers are being captured on photo puzzles. This makes photo puzzles so much more valuable than normal puzzles. The highly personal memories and feelings in their pictures are beyond compare.
Each and every day, we as a company do our best to honor these special moments and unique photo gifts by constantly improving product quality, delivery times, and customer service workflows. In daily business, small tasks might sometimes seem unimportant or "less than" other bigger tasks. However, when reading our customers' reviews, we are reminded that this is not true. Each member of our team contributes to our success as an organization and therefore, each member of our team owns a fraction of the great customer reviews we receive every day.

More than 2000 amazing customer reviews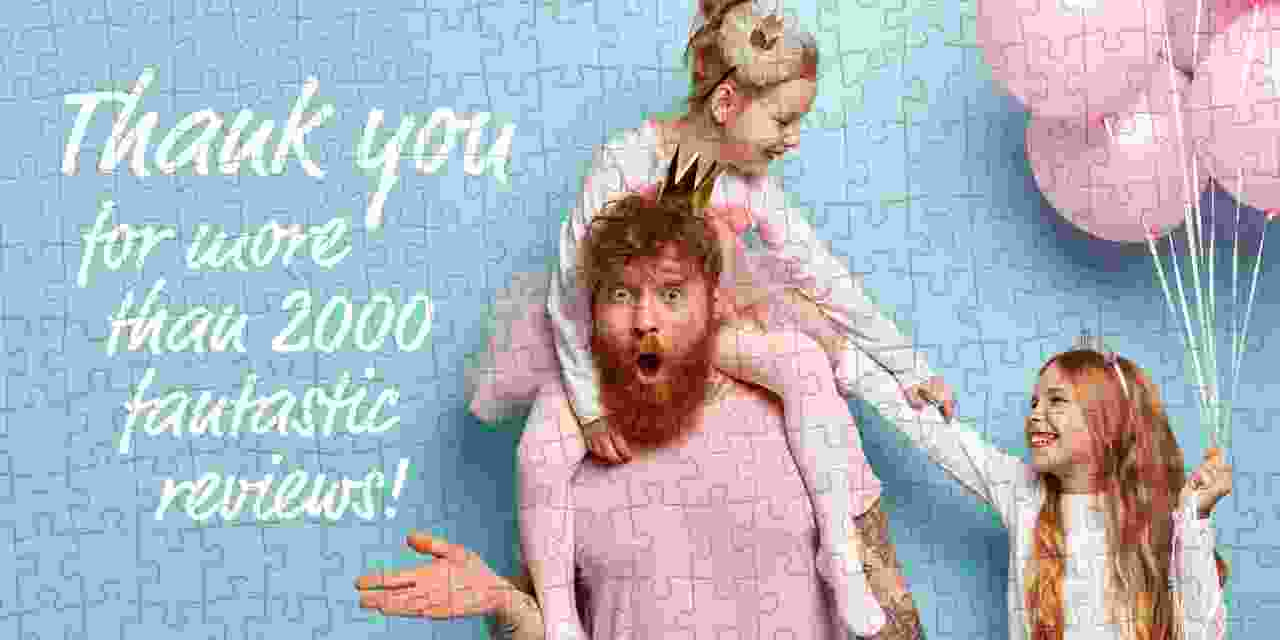 We want to send out a heartfelt Thank You to all our customers leaving reviews so we can continue to grow and become better. The number of customers who are simply happy and leave us five star reviews on their photo puzzle is highly rewarding for us. We are grateful to our customers that they trust us with printing their most special moments on a photo puzzle. In addition, we are grateful that our efforts in the past years have been fruitful and are being rewarded with amazing reviews.

High-quality photo puzzles
If you want to read more about our high quality standards, you can do so on our dedicated puzzle quality page. Our production team works very closely with our customer service, meaning that there are many feedback loops resulting in new ideas and improvements made each and every day to our high-quality jigsaw puzzles. Over the last few years we have kept honing our skills when it comes to making custom jigsaws to our customers' satisfaction. Whether it be puzzle cutting, puzzle print quality, or packaging materials - we constantly question everything in order to provide you with the most fabulous high-quality puzzles!
Our goal is that our customers go through the puzzle making process with ease and do not need to care about anything else other than making a good-looking photo puzzle. Everything else will be taken care of on our side and after only a few days you will receive your cutom puzzle and absolutely love it. In case you are an existing customer and now feel called to leave a review yourself, please do not hesitate! Every review is valuable feedback for us.

In case you want to learn more about the high quality of our photo puzzles, you can take a look here.
Do you have any questions or comments you would like to share with us? You can either comment below or leave us a message via the contact form on our contact page.