Finding the right gift for the Easter basket
July 15, 2021
Spring is slowly awakening from its slumber, daffodils and Easter lilys are beginning to bloom... And Easter is just around the corner. If you still have need gift ideas for the Easter baskets,  you will find Easter puzzle ideas for adults and children of all ages here.

Photo puzzles: Lovely Easter gifts
The chocolate Easter rabbit is an indispensable part of the Easter basket. Add a few colorful eggs and a pretty greeting card with an Easter greeting and your the Easter gift is ready. But that can't be all, can it? For all those who don't want to give a typical Easter basket, we have the perfect solution. Our photo puzzles offer countless creative design options and enough space to wish your loved ones "Happy Easter".
But how expensive should an Easter gift be?  We usually do not want to give an Easter gift that is too big, but we would often still like to give a little something. Thanks to many different puzzle sizes, you can send personal Easter greetings with a photo puzzle already starting at $34.99 $29.99 for a custom photo puzzle with 48 pieces. One of the handiest parts about choosing a photo puzzle as an Easter gift is that it will be comfortably delivered to your doorstep. All you need to do is take a few minutes for creating the puzzle properly and placing your order in good time before Easter.
One thing is particularly important for your personal Easter gift: it must be heartfelt. Put yourself in the shoes of your loved ones: Which shared memories are probably especially precious to them? Are there pictures from vacations, parties, weddings, christenings or similar that ignite joyful feelings? Photos in which you can feel the love and beauty of the moment are, of course, the most suitable for a photo puzzle for Easter. At least if you want to gift something heartwarming.
You could also choose a picture that is rather funny. It is completely up to you. If the Easter gift should be for children, we recommend selecting a photo of something the kids like and recognize. Maybe their latest birthday party with friends? Or a picture of them in their favorite Halloween or superhero costume. Photo puzzles make a great Easter gift for children, because they contain the double wow effect: Receiving a gift is already amazing. And then seeing a photo of themselves on a puzzle is extremely fascinating for our little ones. Children's laughter is guaranteed with this Easter gift!

Easter gift idea for treasure quests
If you decide to go with a photo puzzle for Easter, you could also use it for a hunt. You can open the puzzle beforehand to split up the amount of pieces in different bags, boxes, or even eggs. On Easter you then hide the bags or boxes containing the puzzle pieces, so your kids will have to find all of them in order to put the puzzle together. What a fun twist to the traditional egghunt!
Please be careful to note down where you hid the different items, so you do not risk losing a part of the puzzle pieces! This way you can make your kids happy for sure and they will have good memories forever of this Easter gift.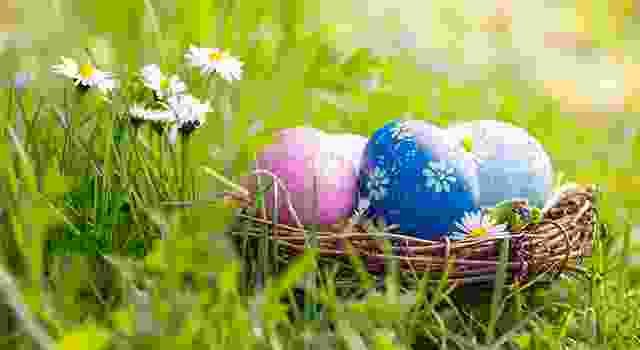 Photo puzzles as Easter gifts for adults
Easter is not usually a big occasion for adults. If you still want to give an Easter gift to someone close to your heart, a custom puzzle created online is a fancy and unique gift. In our experience, adults love puzzles just as much as children, because the inner child in all of us always enjoys some playtime here and there, doesn't it? A photo puzzle with 1000 pieces is a great game for long evenings with good conversations and a relaxing playlist in the background.