Our mission and our product promise go hand in hand: Offering the largest assortment with top-of-the-range quality. We have dedicated ourselves whole-heartedly to making premium photo puzzles. Our customers' high expectations are our motivation to become better and better with every jigsaw that leaves our manufacturing facility. The individually designed products are mostly meant to serve as a unique gift for the beloved. This is why professional finishing and attention to detail are our top priorities.
Photo puzzles with a 15 year guarantee
Have you already heard of our 15 year guarantee? Our promise of quality applies to the durability of the printing, the cardboard and the lamination. The goal: We want you to be one hundred percent satisfied with your jigsaw puzzle, without compromise, even after many years.
Learn more about our guarantee
The highest jigsaw puzzle quality through in-house manufacturing
Promises and guarantees can only be given if one is absolutely convinced, and that is what we are. As a premium producer, we have acquired expert knowledge throughout the years in order to being able to make an imprint on the photo puzzles market. The key to success was the decision to build our own puzzle and games production facilities.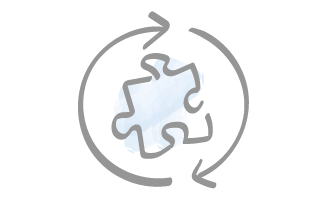 Perfect photo puzzles thanks to high-precision cutting
Optimal cutting guarantees puzzling fun on the highest level. We have therefore dedicatedly worked on finding the perfect ratio between the thicknesses of both our handmade cutting tools and our cardboard. The general rule: finely tuned cutting tools combined with strong cardboard lead to the most satisfactory quality. Accomplishing an excellent ratio between both of them means precision work in the truest sense of the word. The result: On the one hand, the puzzle pieces can be put together easily and reliably stay together on the other hand. The puzzle pieces interlock perfectly while our varied cutting assures pure puzzling joy.
Premium cardboard
In our production we use a very high-quality 2.2 mm thick cardboard. This makes your photo puzzle extra sturdy and long-lasting and even after having laid your jigsaw multiple times, puzzling will still be fun. Moreover, the pieces will easily survive the intensive strain through children's hands. When it comes to our raw materials used, we do not only pay attention to premium quality, but also to the environment. In the picture on the left you can see a so-called discounter puzzle piece with 1.5 mm cardboard at the left in comparison to one of our premium puzzle pieces at the right-hand side.
Fine surface
The non-reflecting refined surface of our photo jigsaw puzzles gives an extra high-quality touch and feel. It does not matter where you put your puzzle; in the candlelight of your cosy living room or on the balcony – our jigsaw puzzles will not reflect the light, always providing a delightful puzzling experience. The special paper we use for our jigsaws makes each piece feel pleasant when touching and turning it in your hands.
Strict final inspection
All our photo puzzles are required to pass a strict final inspection. A jigsaw may only leave the factory, when it meets our high quality standards. Therefore, each puzzle is scrutinized thoroughly at the end of the production line. Your happiness about a succesful gift is our motivation, every single day! We pay special attention to:
The print of the puzzle motif
The lamination of the photo onto the puzzle cardboard
The cutting of the jigsaw puzzle
The print and lamination of the boxes
Comparing jigsaw quality
Puzzling enthusiasts describe their expectations for the perfect jigsaw puzzle very precisely in forums and blogs: The pieces should only fit into their one intended spot and need to be fully cut, so that they are not connected at any point. A the same time however, they are supposed to interlock tightly when being put, allowing separate parts of the jigsaw to be pushed around. It is expected that little production-related puzzle cutting dust will end up in the box. In order to avoid the degree of difficulty being too high, the shape of the pieces has to be variable.
Top-of-the-range quality by puzzleYOU
 High-precision cutting
 2.2 mm thick premium cardboard
 Uniquely cut and perfectly interlocking pieces
 Sophisticated digital print
 Systematic quality checks
 Compliance with DIN-EN 71 standards for materials free of harm to consumer health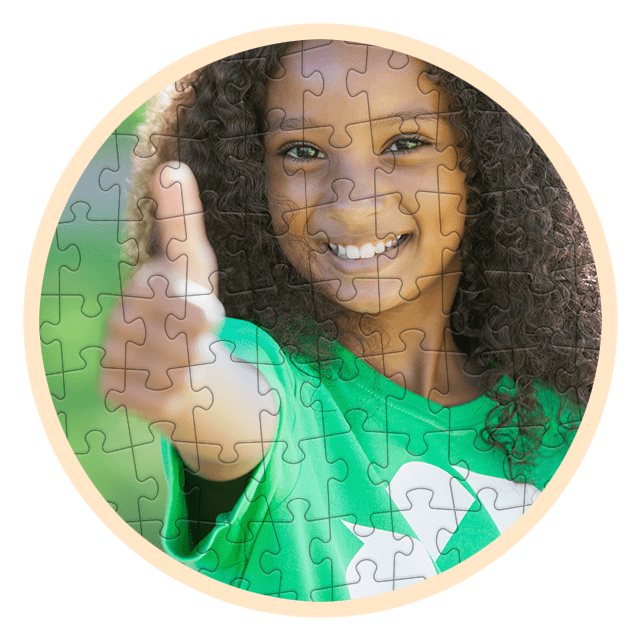 We, at puzzleYOU, consider environmental protection and sustainability very important, which is why we are also taking a step towards a "greener" future. By abandoning the use of plastic foil around the boxes, we can save several tonnes of plastic waste every year and thus work in a much more sustainable way. This is made possible by a new type of closure system with small seals on the sides of the box.
In addition, our puzzle boxes and puzzle pieces receive a special protective coating that gives them greater resistance and makes them more robust. But not only that: thanks to the new protective layer, you also benefit from a better haptic feel and excellent color accuracy. This makes our products more scratch-resistant and dirt-repellent, so that even repeated puzzling and playing cannot harm our products.