How to choose the right jigsaw puzzle size
July 15, 2021
If you are reading this you have probably already made an awesome choice of creating a photo jigsaw puzzle. Making a custom puzzle is definitely something you won't regret. It's fun in the design process, quickly delivered, and even more fun when putting it together! So let's look at which puzzle size is best for you. Whether as a personal gift for someone you love or as a treat for yourself to spend some time offline - puzzles are simply great!
Find the right puzzle size for anyone
At first you should clearly know who your custom photo jigsaw puzzle is for. As it is a very unique and personalized gift, you should have the recipient in mind right from the beginning of the creation process. Is the photo puzzle for your grandma or for your husband? How old is the recipient and how much patience does he or she have for putting a puzzle together? For a rather impatient or busy person, choosing a smaller number of pieces for your photo puzzle can be a good idea. On the other hand, especially with very busy people, you may be doing them a favor when gifting a photo puzzle with 1000 pieces. There are only few things more relaxing than sitting down and doing a puzzle. You do something with your hands, you make visible progress, and you challenge your brain.
What does the recipient like? Should you make a custom puzzle in shades of blue with an action-packed picture? Or should you rather pick a puzzle picture that shows blossoming flowers in a garden? Grandmas often love the latter puzzle motif, whereas kids can be easily bored with nature motifs. They love animals or would rather work on a photo puzzle with a picture that sparks fantasy and lets them dive into another world. In addition, you should be clear on the occasion you are making the puzzle for. A birthday puzzle will usually look very different from a Christmas puzzle. Thinking about these aspects from the start, will save you valuable time in the design process as you will know what you want. This way, you can sort through the different layout options quicker and you will know which of your available pictures are suitable for your puzzle.

Make a large photo puzzle with 1000 pieces
A puzzle with thousand pieces is a good size for adult puzzlers. Whether you are giving it to someone with zero puzzle experience or to a puzzle pro, a 1000 piece puzzle is a good mix between a challenge and success. In every 1000 pieces photo puzzle there are parts which are challenging to put together. Just as well as parts that can be done rather quickly and intuitively.
With a size of approx. 25.2" x 18.9", a photo puzzle with 1000 pieces belongs to the largest photo puzzles on the market. The puzzle pieces have a size of about 0.7" x 0.6", making them large enough to grasp comfortably for adults. However, elderly people may find them too small. So in case you are creating a puzzle for your grandparents, you may switch to a 200 or 100 piece photo puzzle instead. Please note that the pieces of our Photo Puzzle with 500 pieces are the same size as the ones of the Photo Puzzle with 1000 pieces. Meaning that if you are looking for larger puzzle pieces, please choose either a 200, 100, or 48 pieces jigsaw puzzle instead.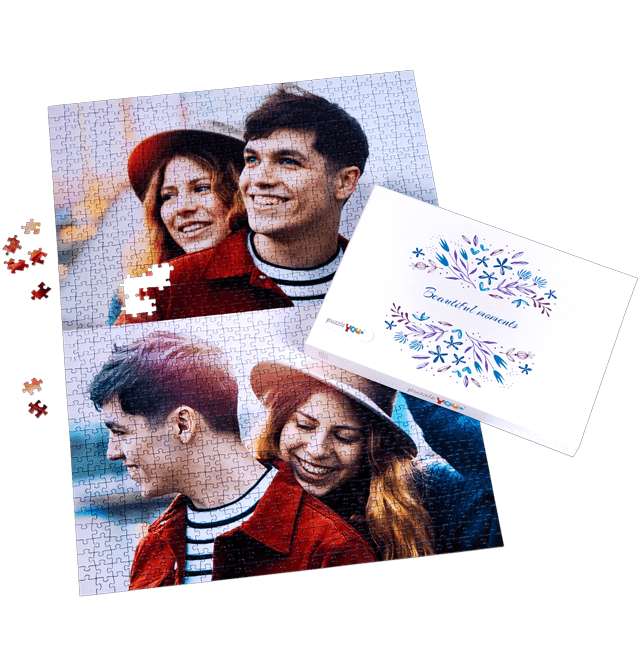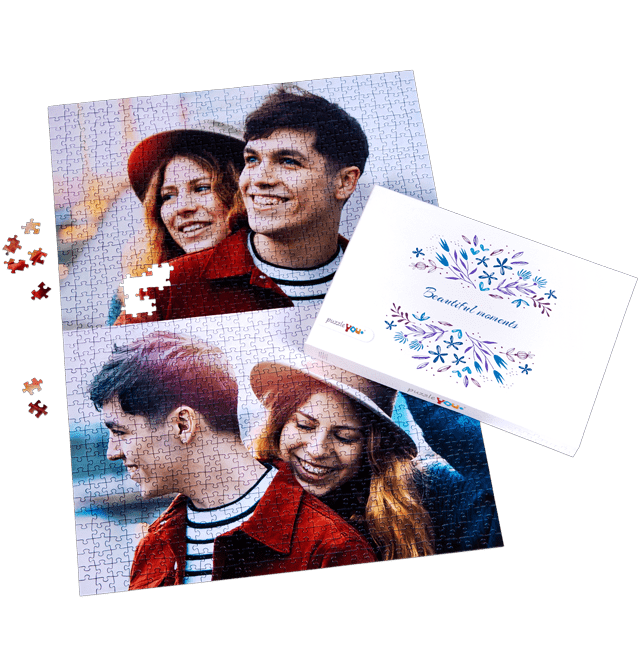 500 pieces photo puzzle
A Photo Puzzle with 500 pieces is the right size puzzle for the impatient ones among us who still like a challenge. It comes in half the size of a Photo Puzzle with 1000 pieces and therefore measures approx. 18.9" x 14.3". Children starting from the age of seven can do a 500 pieces puzzle. However, we think giving a 500 pieces puzzle as a gift to an adult is one of the best things to do with this puzzle size. Adults can put it together within two to five hours. This makes it a fun activity without taking too long or blocking the kitchen table for days.
With a size of about 0.8" x 0.7", the pieces of the 500 piece puzzle are just as large as the ones of the 1000 piece photo puzzle. So maybe you are still in the need for a gift for your aunt's birthday? Or the wedding day of a good friend? Then the 500 piece photo puzzle is the right choice for you.
Photo Puzzle with 200 pieces
A photo puzzle with 200 pieces is the size at which putting the puzzle really becomes a breeze for adults. As a fun and creative gift for your loved ones, it is still a great idea to give a Photo puzzle with 200 pieces. However, we usually rather recommend it for children. It is a cool birthday gift for kids and will definitely put a smile on their face. Adults will be done with a 200 piece photo puzzle in about an hour, whereas children of the age of five to seven will be busy for three to four hours. This puzzle has a size of approx. 18.9" x 14.3". With ø 1.2" x 1.1" its pieces are a bit bigger than the pieces of the 500 piece photo puzzle.
Due to its larger pieces, the puzzle picture does not get cut as many times as a puzzle with smaller pieces. Therefore, pictures with many small details will look better on a 200 piece puzzle than on a 500 piece puzzle for instance. This is because the puzzle pieces have a larger surface. So if you want to print a picture onto your puzzle containing many fine elements - for instance a family picture made from the distance with many small faces -, the 200 pieces photo puzzle may be the right choice for you.

Do you want to learn more about the size of our photo puzzle pieces? You can find a size comparison and more information about puzzle piece size and quality here.
Photo Puzzle with 100 pieces
The 100 piece photo puzzle is great for children of the age between three and four years. With its size of approx. 18.9" x 14.3" it is just as big as the photo puzzle with 48, 200, and 500 pieces. However, as the puzzle only has 100 pieces, its pieces are bigger than the pieces of a photo puzzle with 200 or 500 pieces. They have a size of about ø 1.9" x 1.4", making them even bigger than the pieces of the 200 piece photo jigsaw puzzle above.
This puzzle is a great gift to bring to a kids' birthday party, or a kindergarden party. However, please monitor your children while they are dealing with the puzzle pieces. It can also be a truly special christening gift. Even though this puzzle is very easy for adults, it can still be a nice gift. In this case it is more about the thought and emotion behind the gift than about puzzling because an adult will finish this puzzle in about 30 minutes. Some of your loved ones may actually be grateful if you gift them a personalized puzzle with such few pieces. Not everyone has the time and patience to commit to the challenge of a 1000 pieces puzzle!
Photo Puzzle with 48 pieces
For adults, a Photo Puzzle with 48 pieces is far too easy if you give a puzzle for the sake of puzzling. If you simply find a photo puzzle to be a great personal gift idea, you could design a gift voucher as puzzle design. In this case, the 48 pieces are great because they keep up the mystery about the voucher a bit longer. The giftee will not immediately see what the voucher is for, until the Gift Voucher Puzzle is finished.
For children of two to four years a 48 pieces puzzle is a lovely gift or toy. The puzzle has a size of approx. 18.9" x 14.3" with pieces of about 2.4" x 2.4". Remember that we said above that the pieces of a 100 or 200 piece jigsaw puzzles are big? Well, the pieces of the 48 piece puzzle are XXL! They are extra large, making the puzzle easy to put together - even for the little ones in the family. Of course, please monitor children when puzzling as you do not want them to put the puzzle pieces into their mouth. In our view, the XXL puzzle pieces of the this jigsaw puzzle are the most special part about it. In addition, the Photo Puzzle with 48 pieces is also a great gift for elederly people as the extra large puzzle pieces are easier to grasp than normal ones.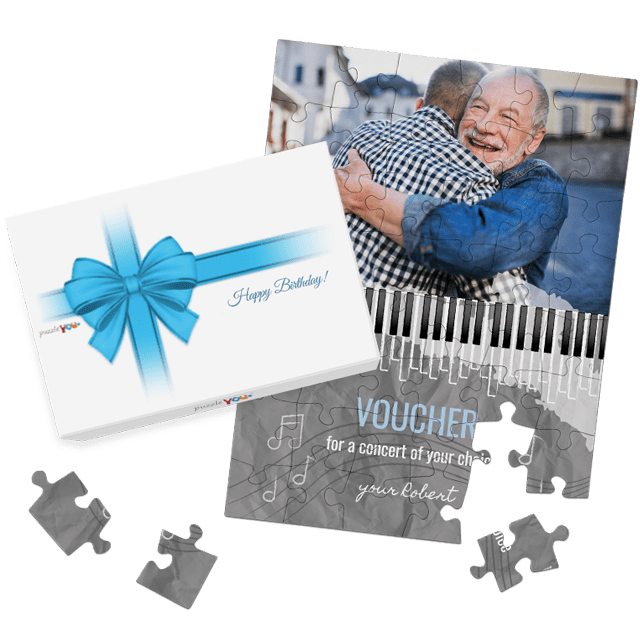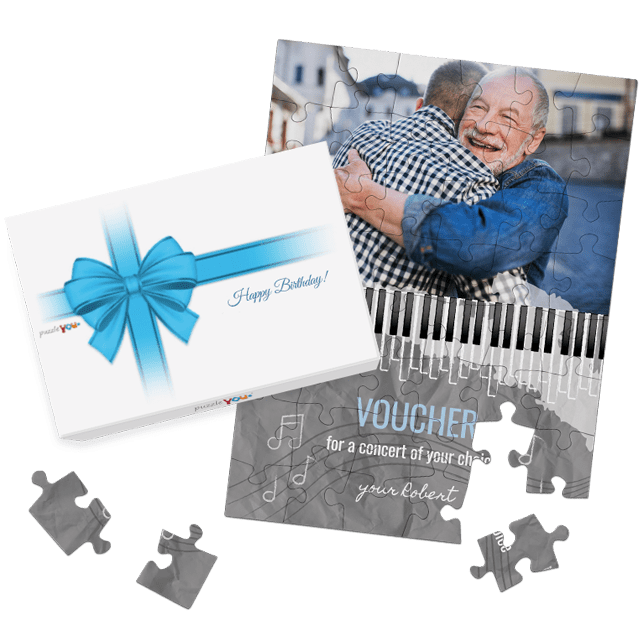 We hope our guide has helped you find the perfect photo puzzle size for your loved ones or yourself. In the end, even if you don't succeed at choosing the perfect puzzle size and take a puzzle that has a bit too many or too few pieces - always know that the thought behind it counts! Our customers tell us every day that photo puzzles are amazing gifts, no matter the number of pieces. You can read more about our customers' reviews here.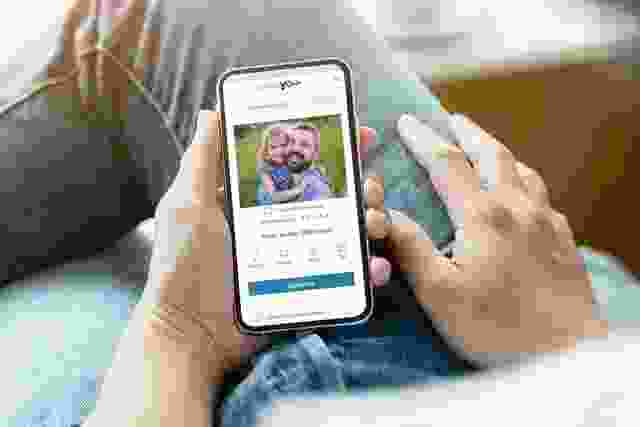 The photo puzzle creation process
Do you need a guide to help you create your personalized photo puzzle? We have got your covered! Check out our blog post on "How to make a 1000 pieces puzzle" here. The design process follows the same steps, no matter if it is for a 1000 piece photo puzzle or for another number of pieces.
For all kinds of general questions regarding the ordering process, please take a look at our FAQ section.
In case you have more specific questions, please do not hesitate to contact our customer service team. We are happy to help you!