Our product designer - 1001 ideas for your photo puzzle collage
July 15, 2021
Often you have many favorite photos that you would like to present. So it's not easy to decide which picture should make it onto a photo puzzle. We have an idea: How about a collage of your most beautiful motifs and memories printed on a puzzle? It's easy to create, you can do it online and without any software.
Ideas for your photo collage
With a Photo Puzzle Collage you have the possibility to put together up to 64 photos onto a puzzle in the online design process. There are many beautiful occasions that are worth to be captured on a photo puzzle. If you still don't know what to put on your first photo collage, you can find some ideas below.
Pictures from the first baby shooting
The first months of life
Photos from the first day in kindergarten or elementary school
Photo collage of the whole family
Secondary school
The construction of the home - from the shell to moving in
The common way of life - from getting to know each other to marriage
Memories from vacation
Impressions from the prom
Snapshots of dog, cat & Co.
The day of the wedding - as a collage for yourself or the guests
Festive occasions like baptism, communion or confirmation
The beloved vintage car or motorcycle

Our tips to make your collage an eye-catcher: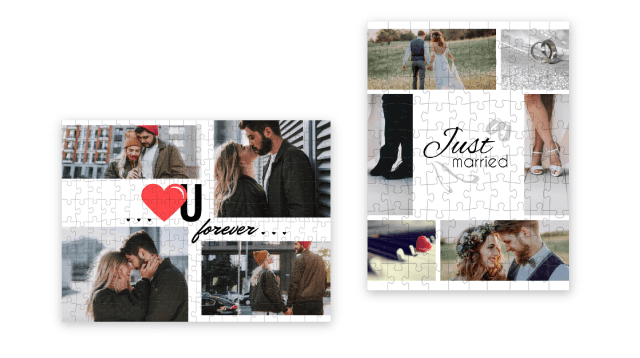 Collages in black and white look classy and high quality!

The collage becomes a special eye-catcher on the wall if one picture is designed in color, while the rest of the photos remain black and white.

For collages with colored pictures, you should make sure that the photos harmonize in color, for example, by having a common base color.

It is also nice if the photos on the collage have a common thematic reference to each other, e.g. a special occasion, pictures from the same region or from a family reunion.
Family collages are harmonious in content if there is a community picture in the center and photos of individual members are draped around it.

For wedding collages, it is best to focus on the bride and groom or insert the date of the wedding. To complete the picture, impressions of the wedding ceremony and the location of the celebration are particularly suitable.

Collages for friends usually consist of various pictures of joint trips and experiences. The common thread is quickly lost. Therefore, pay special attention to a uniform color scheme or insert a summarizing title. The same applies to a collage of several children's photos.

Actually, a picture says more than a thousand words. Nevertheless, it looks very appealing if you underline the message of your photos with a nice message.
Ideas for a message to your loved ones

What I love most about my home, is who I share it with

A smile is the prettiest thing you can wear :)

Collect moments, not things

The best things in life aren't things

I love you to the moon and back

Home is not a place, it's a feeling!

It's not about fitting more years into your life, it's about fitting more life into your years

Ladies, it's time to sparkle!

My favorite place is inside your hug...

How to create a photo collage with our product designer
So, enough tips! Start right now and get creative yourself. Creating a collage is easier than you think with our product designer.
You can create your photo collage for free and without download! Simply select the number of pieces of your puzzle and upload the photos.
After the upload, the pictures will automatically be inserted into any layout. But don't worry, you can always choose another layout without having to start all over again.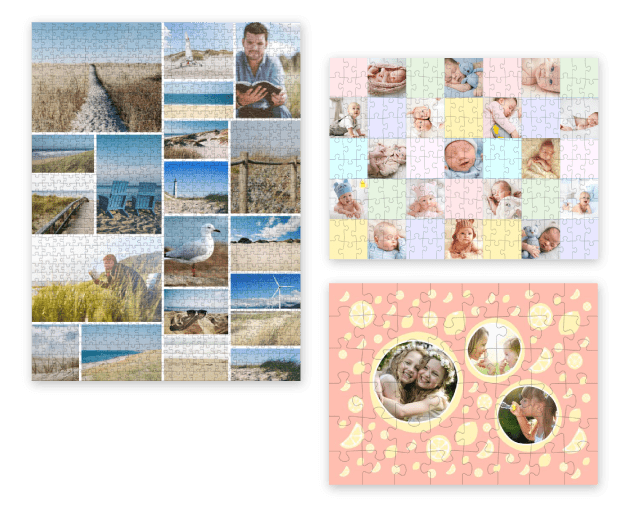 If you want to use a different layout, you will find a nice selection of layout categories on the right side of the product designer. Clicking on it will show you different collage layouts in each category.
Of course you can also change the arrangement of the photos and the selection on the created collage. To do this, simply drag & drop the image to another location. This way you can also add new images.
By clicking on a picture, the functions "Edit" and "Delete" are displayed. Delete" removes the image from the collage, but it remains in the upload area. By "Edit" you can change the image section.
If you want to use a picture several times in the collage, you have to upload it as many times as you want to use it.
There is also the possibility to insert a text field, so you can place your message freely on the puzzle - no matter where. Font, size and color can be customized as desired.
Your collage is ready? Now it's time to design the box. We have five different categories with beautiful box designs in our order process.

You can also add a title to the box. Just click on the text field on the box and enter the text.
And you're done: You can add your photo puzzle with individual collage, individual box and individual title to the shopping cart and send the order. It doesn't get much easier and more individual than this, does it?