Our Product Designer: 1001 Ideas for Your Photo Puzzle Collage
July 15, 2021
Photo Puzzle Collage: Include All of Your Favorite Memories!
It is common to want to choose a collection of favorite photos when designing a custom puzzle! Picking a single picture can be difficult when you have so many meaningful moments to sort through. As a result, puzzleYOU offers collage layouts as a design option. You can choose from our unique collection of collage layouts and tell a story with your personalized photo puzzle. Our collages are simple to create and often only take a few minutes to complete! 

Ideas for Your Photo Collage Jigsaw Puzzle
When you choose to create a Photo Puzzle Collage, you have the opportunity to include up to 64 of your personal photos during the design process. There are so many beautiful occasions worth commemorating on a photo puzzle. If you are looking for ideas for events or milestones to include in your first photo collage puzzle, you can find a list of suggestions below! 
First baby photos 
Milestones (first steps, first playdate, etc.) 
School portraits  
Family events or gatherings
Your first family home 
Engagement, wedding, or honeymoon photos 
Memories from a vacation
Couples at homecoming or prom 
Favorite pets 
Sports teams or live-action shots at games 

Our Tips & Tricks for an Eye-Catching Collage!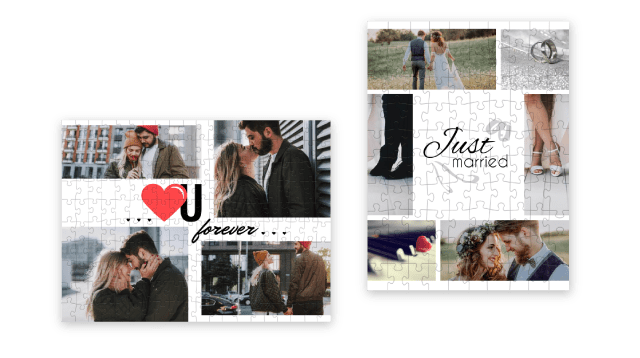 Black and white collages look especially high-quality and classy 

Create an eye-catching centerpiece by including one photo in color, while the rest remain black and white 

For collages with only colored images, make sure that the colors compliment each other and do not clash 

Collages that include pictures from one event tell a story (ex: a rehearsal dinner, wedding ceremony, and reception)
One creative design idea for family collages is to include a group photo in the center with individual members surrounding it
 
For wedding collages, you can include the date of the ceremony alongside a photo of the bride and groom. To enhance the collection, consider choosing pictures of the wedding venue and guests. 
 
While a picture is worth a thousand words, a custom message can take your collage to the next level. When designing your puzzle, consider including a sentimental note, special date, or the names of loved ones. 
Sentimental Messages for Your Loved Ones

Where there is love, there is life.

A smile is the light in the window of your soul.

Moments come and go but memories last forever.

There is only one happiness in this life, to love and be loved.

I love you to the moon and back!

Home is not a place, it's a feeling!

It's not about fitting more years into your life, it's about fitting more life into your years.

True friends are never apart, maybe in distance but never in heart.

In a sea of people, my eyes will always search for you.

How to Create Your Photo Collage Jigsaw Puzzle
After reading through our tips and tricks, you can start the process and unleash your creativity. Crafting a photo collage puzzle is easier than you think with our product designer. The following points break down the process for you: 
You can create your photo collage for free without downloading any software! Simply select the number of pieces for your puzzle and upload your photos.
 
After you upload your pictures, they will automatically appear in your chosen layout. If you want to try a different design, you can choose one without starting over!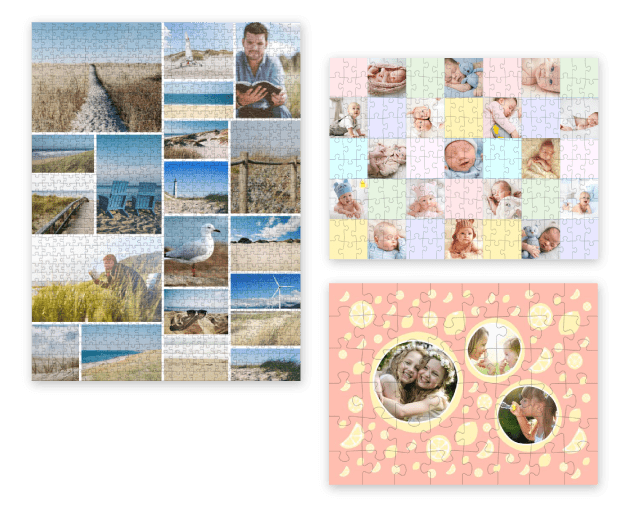 If you want to explore different layouts, you can find our selection of designs on the ride side of the product designer. Our categories were curated so that you can create the most breathtaking collage possible!
 
You can change the arrangement of your photos and the selection of images highlighted in your collage. If you would like to change the order of your pictures, simply drag and drop them to your desired location. You can edit or delete images from the design by clicking on them.
 
If you would like to use a picture more than once in your collage, you can upload it as many times as you want to use it.
When adding custom text to your collage, our designer uploads a text box so that you can move your message anywhere on your jigsaw. You can also customize your font, size, and color. 
 
If you are satisfied with your collage layout, you are ready to design your gift box! We have five different categories with special designs perfect for any occasion. 
 
Once you have decided on a design, you can add custom text to your gift box.
 
After this step, your personalized photo collage puzzle is complete and ready to order!